Arkansas will no longer celebrate Martin Luther King Jr. and Robert E. Lee on the same day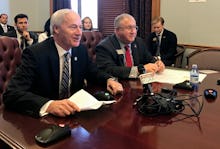 Arkansas Gov. Asa Hutchinson signed legislation Tuesday ending the state's controversial practice of celebrating Dr. Martin Luther King Jr. and Gen. Robert E. Lee on the same day. 
The bill marks the end of a decades-long tradition, wherein Arkansans commemorated King — one of the most influential black civil rights leaders in United States history — on the same day as Lee, a white Confederate general who quite literally fought a war to make sure black people remained enslaved.
Both men were born in January — King on Jan. 15, 1929, and Lee on Jan. 19, 1807. The bill will keep King's holiday as is, but create a memorial day to commemorate Lee on the second Saturday in October, according to the Associated Press. 
For a brief time in the mid-1980s, Arkansas state agencies required employees to choose which day the wanted to take off work: King's birthday, Lee's birthday or the employee's own birthday. Today, Alabama and Mississippi are the only two states that still celebrate the two men on the same day.
Hutchinson, a Republican, has been pushing legislation to split the holidays since 2016, according to reports, saying it would unite Arkansans at a time of racial strife. Similar bills have failed repeatedly in the state legislature — including most recently in January, 2015, less than six months before white supremacist Dylann Roof shot and killed nine black parishioners at a church in Charleston, South Carolina. 
Yet despite its symbolic import, Tuesday's bill does little to alleviate the state's glaring racial inequities, which are maintained by the very same Republican lawmakers who passed the King-Lee day legislation. On Monday, for example — one day before Hutchinson signed the bill — the GOP-controlled Arkansas legislature passed a new voter identification law, resurrecting the requirements of a similar law that the Arkansas Supreme Court deemed unconstitutional in 2014. 
Voter ID laws disproportionately impact black and Latino voters, and are widely recognized as a tactic Republicans use to suppress minority political power. But the GOP continues to push them in earnest. Monday's voter ID bill will now go before Hutchinson to be signed into law.