Prince, 'Space Jam' and André 3000 — The 11 best releases to pick up on Record Store Day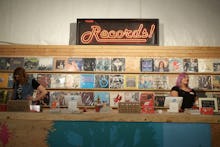 April 2017 will see three of the most important days in music all fall back to back to back: April 20, more commonly known as 4/20, a celebration of a source of inspiration for so many esteemed artists, will lead into the now somber April 21, the one year anniversary of Prince's death, to be capped off by Record Store Day on April 22. 
This year's is no ordinary Record Store Day. It's the 10-year anniversary of the tradition, and boasting its first female ambassador, St. Vincent. Announced Tuesday, the day will see the release of hundreds of exclusives, live sets and reissues in independent record stores in the United States and the United Kingdom, featuring reissues from David Bowie, Notorious BIG, Madonna, Patti Smith, Danny Brown, Animal Collective, the War on Drugs and more. A reissue from his Purpleness himself will also be released, seven 12" maxi-singles from the '80s.
Read more on some of the releases we're most excited for below, and happy April holidays.
1. André 3000, "All Together Now"
First heard in 2010 during the NBA Finals, André 3000's cover of the Beatles' "All Together Now" will receive its first vinyl release this Record Store Day. Perhaps it's a sign that Outkast's odd ball poet will be returning to music sooner than we thought.
2. Animal Collective, Meeting of the Waters
Recorded in the Brazilian rainforest, Meeting of the Waters is a new live EP combining field recordings with acoustic and electric instruments, judging by its teaser trailer. 
3. Big L, Devil's Son EP (From The Vaults)
Big L was one of the last great MCs from New York's golden age. Like Bed-Stuy's Notorious BIG before him, his life was cut short by violence, right before he was reportedly about to sign with Jay Z's Roc-a-Fella records and likely experience his mainstream break. This Record Store Day, "Devil's Son," a 1993 single deemed too offensive to release with his 1995 Lifestyles Ov Da Poor & Dangerous will finally see a wide release along with four rare bootlegs.
4. David Bowie, BOWPROMO
The mythic BOWPROMO, a promo LP pressed in 1971 by Bowie's then manager Tony Defries to secure the artist a record deal, will see an official vinyl pressing this Record Store Day. It features seven Bowie tunes, including early mixes of "Queen Bitch" and "Kooks." Bowie fanatics will also be able to pick up previously unreleased Cracked Actor (Live Los Angeles '74) on a three-vinyl set.
5. Sharon Jones with the E.L. Fields Gospel Wonders, "Heaven Bound"/"Key to the Kingdom"
Before the late Sharon Jones became the queen of soul's golden age, she was a gospel singer in the group E.L. Fields and The Gospel Wonders. This 7" record is a reissue of the group's very first gospel recording from the late '70s, featuring "Heaven Bound" on side A and "Key to the Kingdom" on the reverse.
6. Ken Kesey, The Acid Test
Ken Kesey's Acid Test parties are the stuff of psychedelic legend. The author hosted them in the San Fransisco bay area in the mid-'60s before LSD was made illegal. The Grateful Dead frequently performed, lit by blacklight, strobes and fluorescent pain. This rare recording is an attempt to recreate that experience for those who never got the chance to live it themselves.
7. Madonna, Dance Mix
South America was the only continent to officially enjoy Madonna's 1985 four-track EP Dance Mix. It featured an extended mix of "Angel," produced by the legendary Chic guitarist Nile Rodgers, as well as a "Chica Material (Material Girl)" remix put together by John "Jellybean" Benitez. This April, the rest of the world will get their chance to enjoy Madonna's key throwbacks.
8. Marcy Playground, Marcy Playground
"Sex and Candy" has never been heard over the scratchy warmth of vinyl. The classic minimalist debut from the '90s alternative act has never been released on wax. But now that vinyl is the new hotness, and getting hotter every year, its time. The recording will come with a bonus 7" with two unreleased cover songs.
9. Prince, "Little Red Corvette"/"1999"
The 7" single of "Little Red Corvette" and "1999," two of Prince's finest tunes, has been out of print since 1985. To honor the one-year anniversary of his death, which will take place the day before, Warner Bros. will resurrect the picture disc in its full sensual, purple glory along with six other singles.
10. Space Jam: Music From and Inspired By The Motion Picture
Few soundtracks are more iconic than that of the almighty Space Jam. Seal's "Fly Like an Eagle," R. Kelly's "I Believe I Can Fly," "That's the Way (I Like It)" by Spin Doctors featuring Biz Markie — these are bangers always meant to be heard in high fidelity with a stunning art jacket to match. There will only be 3,500 of these available nationally, so get to your local independent record store early.
11. The War on Drugs, "Thinking of a Place"
Indie icons The War on Drugs will be releasing their first new original music since their 2014 LP Lost In The Dream this Record Store Day. It'll come as a 12" single titled "Thinking of a Place."
Mic has ongoing music coverage. Follow our main music hub here.