Do people regret voting for Trump? 3.5% of Trump voters regret casting ballot for him.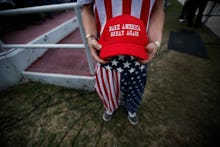 Despite the president's paltry approval rating, plenty of people are still onboard the Trump Train. 
According to a new Pennsylvania State University poll, only 3.5% voters who supported Donald Trump in the general election regret voting for him. The researchers shared their results in a Wednesday Washington Post article.
When researches polled 1,000 voters, only 12 out of the 339 participants who voted for Trump said they would change their vote. Of those 12, only three would change their vote to Democratic candidate Hillary Clinton, while seven said they would vote for minor-party candidates like recount queen Jill Stein or foreign policy newbie Gary Johnson.  
Those who regretted voting for the real estate tycoon cited his lack of humility, his handling of the immigration ban and his general act-first-ask-questions-later demeanor for their change of heart. 
Despite the small percentage of Trump supporters experiencing buyer's remorse, if that percentage did hold true for all Trump supporters, then about 2.17 million of the 62 million people who voted for Trump regret their votes. 
The media's fascination with regretful Trump supporters seems to have grown in recent weeks, especially since Trump released a miserly budget that cut funding to programs like Meals on Wheels. 
CBS News told the story of Georgia resident Linda Preast, a Trump voter who relies on Meals on Wheels and was surprised by the president's proposed budget cuts. CNN recently profiled Kraig Moss, who attended 45 Trump rallies but lost faith in the president after he dropped the Affordable Care Act's addiction treatment mandate in the American Health Care Act. The Young Turks ran a similar segment about Trump voter frustrations. 
For some, voter remorse set in before Trump even took the oath of office. In December, Mic spoke to the creator of Trumpgrets, a Tumblr that collected tweets and social media posts from people who wished they hadn't consented to a Trump government. 
But, according to researchers, the majority of Trump voters wish the president well and want him to persevere past what they perceive as a harsh political climate. 
Trump's ratings have taken an Olympic nosedive since his inauguration. In the wake of Trumpcare discontent, his approval ratings fell to 39% in March. While it tok the five most presidents at least a year — if not more — to dip below majority approval, Trump fell below the 50% approval mark in just eight days. 
According to researchers, a large number of Trumps voters expressed gratitude to the president and told him to "stay strong," "hang in there" and "stay the course." 
Of those who supported him, 42% wish he would behave more presidential and many hoped he'd curb his Twitter usage. While Trump's Twitter has always been a bit unhinged, he recently used it to push accusations that former President Barack Obama surveilled Trump Tower via wiretapping during the election campaign.