'Sesame Street' Trump video clips: 4 times the PBS children's show mocked the president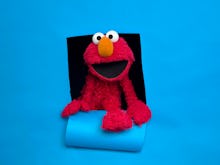 It's not a sunny day for Donald Trump or Sesame Street. The president's proposed budget would slash funding for nine major programs from the federal government, including the Corporation for Public Broadcasting, which supports PBS and NPR. 
The educational children's show, which debuted in 1969, has taught kids to count and share, and has demonstrated academic benefits for young and low-income audiences. 
The cuts would impact the future of Sesame Street indirectly, as HBO currently holds exclusive rights to new episodes of the show, which air on PBS nine months later. Sesame Street's parent nonprofit, Sesame Workshop, made the deal with HBO in 2015. If PBS' funding is cut, families without a subscription to HBO may not be able to access episodes in the future. 
But the only person in favor of the cuts may be Donald Trump himself. The notoriously thin-skinned president has been the butt of jokes on the show for years, as seen below. 
1. Grump Tower 
The business mogul was mocked on Sesame Street long before he entered politics — "Ronald Grump" first appeared in the neighborhood in the late 1980s, boasting of his real estate accomplishments and offering a deal on Oscar the Grouch's trash can. One of his plans involved Grump Tower, a "duplex can-dominium," which he wanted to build in the exact spot of Oscar's trash can. It wasn't a very honest arrangement, and Oscar went on to regret signing a deal with the fedora-wearing Muppet swindler. 
2. Evicted by Mr. Grump 
Joe Pesci played Ronald Grump on the 25th anniversary Sesame Street special in a less-than-flattering presentation of a man kicking the local residents out of their homes. It was a strangely prophetic skit in which a reporter, played by Seinfeld/Veep star Julia Louis-Dreyfus, said, "It looks like Sesame Street may be no more due to one man: Ronald Grump," and Elmo remarked, "If we don't do something about Mr. Grump, Elmo thinks we will be history!" 
3. Bad behavior behind the scenes 
And, in an outtake, Pesci is seen spitting on Elmo and smacking him with a rolled-up blueprint. 
4. Grouch 'Apprentice'
By 2005, the Trump parody character was back to being played by a Muppet and renamed the less subtle "Donald Grump." Following a jazzy musical number that mentions that Grump's name is "on every piece of trash in town," the grouch mogul, now wearing a bright orange wig, selected an apprentice from the Sesame Street cast. The resemblances between the grouch and the businessman were apparent: He took joy in firing people and, when offered the hardworking Elmo's earnest assistance, he turns it down. 
Mic has ongoing Donald Trump coverage. Please visit our main Donald Trump hub.