Heineken may face fines in Hungary if it doesn't change "Communist" star logo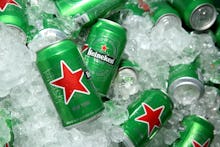 The small red star on Heinekin labels has caused a big outrage in one European country. 
Hungary Prime Minister Viktor Orban said the country has a "moral obligation" to ban use of Communist and Nazi symbols like the swastika, arrow cross and red star, Reuters reported. On Monday, the Hungarian parliament discussed a bill outlawing the use of such symbols. 
The bill puts beer giant Heineken squarely in the crosshairs. The red star made its debut on Heineken labels in the 1930s, when the company began using a rectangle label with a large red star, the Heineken website noted. When the red star became associated with communism after World War II, the company revised their logo so the star was white with a red border. In 1991, Heineken decided to go back to its roots and made the star red once again. 
If the bill is passed, companies that don't comply with the new regulations will face fines up to 2 billion forints, or nearly $7 million, Reuters reported, noting that anyone who commits the criminal offense could also serve a jail sentence. 
Displaying Nazi imagery is a criminal offense in Germany, but is not one in the U.S., Slate reported. Meanwhile, displaying Communist imagery is punishable under the law in many countries including Indonesia. The images are officially banned in parts of Ukraine, Lithuania, Latvia and Czechoslovakia. 
Hungarian lawmakers have had trouble banning Communist imagery in the past. While displaying the imagery was once a crime, in 2008 the European Court of Human Rights found the law to be in violation of freedom of expression.
Prime Minister Orban is a Trump supporter who hasn't been shy about targeting foreign-owned companies with taxes — thereby enacting economic nationalism — in the past. 
The bill spells bad news for companies with red stars in their branding. That includes Macy's, San Pellegrino water, Texaco and Converse. 
Heineken did not immediately respond to Mic's request for comment.