Galaxy S8 vs. Red iPhone 7: How the 2017 Samsung stacks up against Apple's new release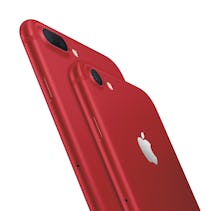 Apple unveiled a red iPhone 7 and 7 Plus on Tuesday as part of the Product Red line that donates portions of profits to the fight against AIDS. The announcement was well-timed. In exactly a week, Samsung will be announcing its first smartphone of the year: the Galaxy S8 and S8 Plus. 
Here's how the two devices fare against each other:
Galaxy S8 vs. Red iPhone 7: Release date and timeline
Apple made its announcement on Tuesday, March 21, and the red iPhones will be available for sale online and in stores on Friday, March 24. Samsung is said to debut its new smartphone at an event in New York City on March 29. The devices will reportedly go on sale in April.
Galaxy S8 vs. Red iPhone 7: Colors
The special edition iPhone 7 models come in one color: red. But Apple sells the iPhone 7s in five other colors — jet black, black, silver, gold and rose gold. As for the Galaxy S8, there is no official word from Samsung, but rumor has it that the device will be available in three colors: black sky, orchid gray and arctic silver.
Galaxy S8 vs. Red iPhone 7: Models and size
The red iPhone 7, much like the iPhone 7s in all other colors, come in two models: an iPhone 7 and a larger iPhone 7 Plus. Each special edition devices comes in two size capacities — 128GB and 256GB — even though all other non-special-edition iPhone 7 phones have a third size of 64GB. The Galaxy S8 is also rumored to come in two models: a 5.8-inch device and a 6.2-inch device called the S8 Plus.
Galaxy S8 vs. Red iPhone 7: Battery
The iPhone 7 has a 1,960 mAh battery while the iPhone 7 Plus has a 2,900 mAh battery. As for the S8, the larger model is rumored to have a 3,750 mAh battery, while the smaller model has a 3,250 mAh battery.
Galaxy S8 vs. Red iPhone 7: Headphone jack
One of the biggest changes with the iPhone 7 was that Apple opted to remove the headphone socket. The charging socket is now the headphone socket as well. While there were rumors that Samsung would be doing the same with the S8, reports cite that the smartphone will come equipped with a "traditional 3.5mm headphone socket."