'Pokémon Go' APK 0.59.1: Shiny Pokémon and throw "grades" leaked in latest patch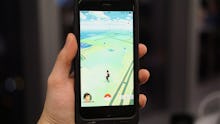 As sure as the sun rises each morning in the east, you can bet on there being a pretty comprehensive data mine of each new Pokémon Go update as soon as it's released. Previous leaks have provided info about Gen 2 Pokémon prior to their release and tantalizing tidbits about Shiny Pokémon, so it's no surprise that players would be chomping at the bit to see what changes are being seeded in 0.59.1.
The reason we're able to do this is because each update to Pokémon Go's Android application package contains changes to the game's code. By looking over what's changed, we can find out what's coming next for Niantic's mobile game before anything is officially announced. If you're curious for some details about what might be coming up, read on.
Pokémon Go APK 0.59.1: Sky changes and redeemable passcodes
According to the Silph Road's data mine of the new APK, the sky in the game has been stealth redesigned to be brighter and have a higher resolution. While not super exciting, poster dronpes wondered if this might be the beginning of changing weather conditions in-game that were hinted at by Dennis Hwang at the Game Developers Conference.
Additionally, the code indicates that something called "redeemable passcodes" is being introduced. The current theory is that this is a way for Niantic to give out codes for redeemable in-game items, or that it's simply a designer tool to help give test accounts items for testing. Hopefully it's the former, but it's still too soon to say.
Pokémon Go APK 0.59.1: PokéStop cooldown/lockdowns and nickname blackouts
As part of the new code the Silph Road data miners found, Niantic has added a new "inactive" or "closed" state to PokéStops. It's unclear whether or not we're seeing the beginnings of a new soft ban system for GPS Spoofers or something completely different entirely.
Code was also found for something called "blackouts" for banned nicknames. According to the data mine, there's a fair bit of code for this particular inclusion, which isn't surprising given the emphasis on collaboration and teamwork Niantic CEO John Hanke stressed for the gym overhaul in his interview with Wired Germany.
As long as your name isn't overtly inappropriate, you shouldn't worry about it, and even if you're someone with a... less than appropriate handle, you've still got time to change it since this hasn't been implemented yet.
Pokémon Go APK 0.59.1: Throw Grades, Pokédex Buttons and Shiny Pokémon
The new APK has also introduced code for throw grading that appears in relation to a duration and another unspecified label, according to the Silph Road. It's unclear whether this is going to be a new way to determine bonus experience for catching Pokémon or if it's something else entirely, but the data mine couldn't find anything it's connected to. So chances are good that it's still in the nascent stages of development, whatever it is.
In more exciting news, gender and shiny buttons are being implemented for the Pokédex. The gender button is simply a male/female symbol that fills in with a red or blue color when you capture a Pokémon of that gender. Currently it's not clear what the Shiny button will do since it's only got a "Shiny Captured" button variant, not a "Captured" and "Seen" variant as well. Hopefully when Shiny Pokémon are eventually included in the game, you'll have the opportunity to scroll through all those super rare, differently colored Pokémon.
It's pretty clear that there's a lot to be excited for moving forward with Pokémon Go. When these different features and improvements are implemented still remains to be seen, but there's a lot coming down the pike. Even if Shiny Pokémon aren't your thing, there will eventually be a new APK to be data mined.
More Pokémon Go guides, tips, tricks and updates
Check out Mic's Pokémon Go tips and tricks. Here are guides on how to get stardust, how to determine how long it will take you to reach level 40, the kind of Pokemon you get from 10-kilometer eggs, how to create new PokéStops, how to maximize your chances of catching Pokémon and how PokéStops distribute Pokémon eggs. Also check out how to catch Gen 2 baby Pokémon, our analysis of post-balance update Chansey and Rhydon and everything you need to know about finding the long-awaited Pokémon Ditto.