Drake's 'More Life': Is "Free Smoke" about Kid Cudi?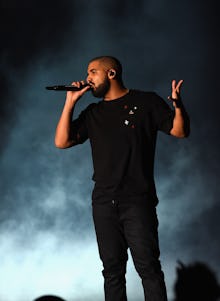 According to Twitter, Drake may have thrown some shade at Kid Cudi on his new album, More Life. "Free Smoke" is the opening song on the 22-track album and, if the fans are right, Drake still has some beef with the rapper. 
The Drake and Kid Cudi feud
Drake and Kid Cudi had a small feud last year after Cudi went on a Twitter rampage and attacked some rappers who "think they're top five" but have "30 people writing for them." Drake took this as an attack and responded with the song, "Two Birds, One Stone." 
The "Free Smoke" theory
So, is "Free Smoke" Drake's way of continuing his feud with Kid Cudi? Kid Cudi responded to Drake's "Two Birds, One Stone" track with a tweet asking him to say it to his face, which Drake could be referencing on the song. On "Free Smoke" Drake raps, "Please come outside the house and show yourself/ So I can say it to your face." 
Twitter seems to be into the theory that "Free Smoke" is about Drake.
Kid Cudi checked into rehab in October for depression. In the past, he has admitted to heavy drug use, including cocaine. On "Free Smoke," Drake raps, "Y'all keep playin' with your nose, yeah/ you get high and do the most, yeah," which could be seen as a reference to his enemy's past drug use. 
We'll have to wait and see if Kid Cudi claps back. 
Mic has ongoing music coverage. Please follow our main music hub here.