Trumpcare would make deductibles rise by thousands, breaking Trump pledge for lower costs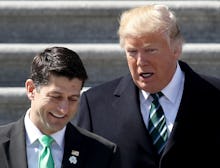 The Republican health care bill has had its fair share of bad news over the past week, with dozens of House Republicans balking at the GOP's proposed Affordable Care Act — aka Obamacare — repeal legislation, and putting the ACA repeal's future in serious jeopardy. 
But the outlook for the bill's success dimmed even further on Wednesday, when a new Kaiser Family Foundation analysis showed the GOP's proposed bill — officially titled the American Health Care Act — would cause deductibles in a typical health care plan to rise by more than $1,500. 
The finding would break a fundamental promise President Donald Trump made to Americans, telling them his plan — which he continues to back 100% — would bring "lower numbers" and "much lower deductibles."
The reason for the rise in deductibles under the health care bill Trump has thrown his weight behind is simple.
Because the AHCA lowers the amount of tax credits many Americans will receive to buy health care, those Americans will likely purchase plans that have lower upfront premium costs but higher deductibles when they actually get sick and need to use their insurance, according to the Kaiser study.
"Under the Affordable Care Act, the low-premium, high-deductible health plans are called 'bronze' plans — so think of this as the 'bronzification' of the non-group market," Drew Altman, president and CEO of the Kaiser Family Foundation, wrote in his analysis, published in Axios. "The result: Premiums may be lower in some cases, but deductibles will go up."
House Republicans are slated to vote on the GOP plan on Thursday. 
As of Monday morning, reports indicate the bill does not have enough Republican support to pass. And if it does, the plan is all but dead on arrival in the Senate, where Republicans of all stripes are against the bill.