The drug accusation on 'The Real Housewives of Beverly Hills' is season 7's best moment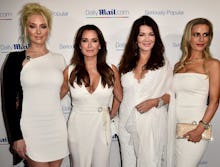 Tuesday's episode of The Real Housewives of Beverly Hills finally gave season seven some much-needed drama. 
"Big Buddha Brawl" was entertaining from beginning to end, but there was one scene in particular that made it a classic episode. It may have even earned itself a spot as one of the all-time greatest Real Housewives moments. 
The episode began with a fight between Dorit Kemsley and Erika Jayne. The pair have had tension for awhile thanks to "Pantygate." Earlier in the season, Erika attended a party without wearing underwear under her dress, an incident that caught the attention of Dorit's husband, PK Kemsley — who said "he wasn't remotely turned on but didn't mind the view." Erika has zero fucks to give, so we're not sure why anyone was surprised.
Anyway, Dorit wasn't amused by her lack of undergarments, and it's become the pair's main point of conflict. Both women waited until the group's Hong Kong getaway to finally unload on each other, causing the episode to unravel in several unexpected ways. 
During a dinner near the end of the hour, Lisa Rinna once again stirred the pot for our viewing pleasure. She asked if Dorit had apologized to Erika yet — and then the gloves came off. 
The women continued to bicker about the issue without really getting anywhere. Daytime Emmy winner Eileen Davidson chimed in for the rest of the women and the audience at home, suggesting it wasn't like Dorit killed Erika's son or did something unforgivable. 
And then it happened: Erika broke down before our very eyes and let it all out on poor Eileen. "Don't you ever talk about anyone who puts on a uniform," Erika said to Eileen, who was simply trying to help. Erika's emotions took over, and it was clear her son is a sore subject for her. 
After the dust settled, the food was cleared and Eileen remained shaken over what had just happened, Lisa had something to get off her chest. "This is my last night in Hong Kong. This is my last chance to really get everything out," Lisa said in a voice-over, making it clear the focus had been off her for too long. 
She asked Dorit why she was left alone during a dinner party at her house several weeks ago. Lisa was confused and was wondering, several weeks later, why everyone was hanging out without her.
Lisa continued to tease before finally dropping her bombshell of an accusation. "'What are you insinuating?' is the better question," Kyle Richards said. "Were people doing coke in your bathroom?" Lisa asked without flinching. Boom. 
Kyle's reaction really sums it all up:
The confrontation continues Tuesday. We hope Lisa Rinna is working on her Emmy speech now. 
The Real Housewives of Beverly Hills airs on Bravo on Tuesdays at 9 p.m. Eastern. 
Mic has ongoing Real Housewives coverage. Please follow our main Real Housewives hub here.