How a new women-only cab service is helping women get around in Pakistan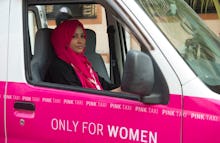 A new taxi service is trying to make it easier and safer for women to get around the busy commercial center of Karachi, Pakistan.
Starting on Thursday, women traveling in the city need only keep their eyes peeled for a bright pink taxicab with a female driver clad in a headscarf of the same color behind the wheel.
According to the Independent, a Pakistani woman named Ambreen Sheikh and her husband are the architects behind the company, aptly called Pink Taxi. Sheikh told Reuters the new women-only service largely employs "housewives, young women and students," a plus in a country where women have historically made up a small percentage of the workforce.
One of the many barriers perpetuating that disparity is a lack of safe transportation options, as many women face sexual harassment when taking public transit — and cabs can be no better. Noor Jehan, a Pink Taxi driver, told the Independent most women in Pakistan would "think thrice" before getting into a car alone with a man.
Pink Taxi isn't the first Pakistani company to broach a solution to the country's problem with women's mobility.
In March 2015, the government launched a similar service, funding a fleet of pink rickshaws set aside for female drivers and passengers in Lahore.
Pakistani news organization Saach TV reported at the time that the initiative was a "bid to remove the cultural barriers for women, to provide new possibilities to generate revenue for their families." 
The International Labor Organization emphasized in a report from the same year that there's no understating the ways Pakistan's paltry public transportation system disadvantages women: In fact, most companies have fallen woefully short of the government-mandated minimum 5% quota for women employees in an organization because of it.
"While it is clear that the disadvantages associated with poor physical access to services may be felt by a wide section of society, there is substantial evidence to suggest that the impacts on women are particularly severe because of stronger constraints on their mobility," the report read.
Pink Taxi may not be the catchall answer to this problem, as some fear the service will only improve the lives of financially well-off women who can afford a private car service. 
But as Pakistan — and the rest of the world, to be sure — works on changing a culture that accepts violence against women as a reality, it's still possible Pink Taxi could do some good.