'Wheel of Fortune' Blunder: Contestant Kevin's epic fail has the internet melting down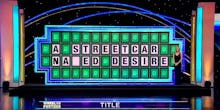 Tennessee Williams' 1947 masterpiece A Streetcar Named Desire is one of the most well-known plays in the American canon — except, apparently, to one unlucky contestant on Wheel of Fortune.
On Tuesday night's episode of the long-running game show, a contestant named Kevin was presented with the nearly-completed puzzle "A Streetcar Na_ed Desire." Kevin's guess for what was missing? 
The letter "K" — which would have made for a very different kind of play.
Another contestant immediately followed up with the correct answer, but Twitter was quick to call out Kevin's unfortunate blunder.
Host Pat Sajak, however, was quick to laugh off Kevin's theatrical faux pas.
"Although you got the right answer," Sajak quipped to Lisa, the contestant who answered correctly, "I'd rather see Kevin's play."