UK Parliament Gunfire: At least two shot, a dozen injuries reported at Westminster Bridge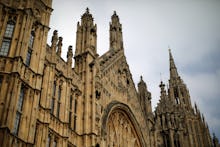 A police officer was stabbed and his assailant shot by law enforcement outside the Houses of Parliament in London on Wednesday, Commons Leader David Lidington told the BBC.
Initial reports from Reuters suggested that two people had been shot, and a photographer associated with the news agency reported that "at least a dozen" people had been injured on the nearby Westminster Bridge.
According to the UK Press Association, one woman had died from injuries she sustained during the incident and several others had "catastrophic injuries." Early reports from Reuters claimed that a second person had also died, but that person's identity was not immediately known.
Photos and eyewitness accounts from the scene suggested that a car had slammed into the railings of parliament, mowing down several people in the process.
A video from inside the chambers of parliament showed the moment that gunshots could be heard from outside.
In a statement, London Metropolitan Police said that they are treating the incident as terrorism until they know otherwise.
One European security official who spoke to the Associated Press on condition of anonymity said that there was "increased chatter on jihadi networks Tuesday following the UK's adoption of an electronics ban aboard flights from certain mostly Muslim countries," but said that thus far there is no evidence to support the attack being terror-related.
According to Reuters, British Prime Minister Theresa May will convene an emergency security committee meeting on Wednesday evening to assess the incident.
This story is breaking and will be updated.