Did Disney "steal" 'Zootopia'? Latest on the lawsuit alleging company ripped off script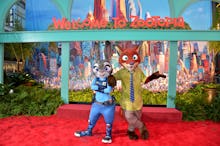 Disney's 2016 animated film Zootopia was a massive success for the entertainment company, grossing over $1 billion in theaters worldwide and taking home the Academy Award for best animated feature film. 
But the idea behind the hit film may not have been Disney's, originally. Esplanade Productions, Inc. has filed a lawsuit against Disney, alleging that the company copied the ideas of screenwriter and producer Gary Goldman without credit or compensation.
Goldman — who wrote the screenplays for such films Big Trouble in Little China, Next and Total Recall — reportedly pitched his idea for a "Zootopia" franchise twice to Disney executives: first in 2000, when he presented the idea to former Disney executive and Mandeville Films' CEO David Hoberman, and later in 2009 to Brigham Taylor, who, the lawsuit notes, was then Walt Disney Pictures' executive vice president of production and development. 
The Disney executives passed on the project both times. According to the lawsuit, Goldman and the Disney executives "understood that writers and producers pitch ideas and materials to studios in confidence in order to sell those ideas and materials for financial compensation ... and that Defendants would not use or disclose any of the ideas or materials without compensating Esplanade." 
In the lawsuit, Esplanade alleges that Disney not only stole Goldman's title and basic premise, but also uses "substantially similar settings, characters, dialogue, mood, pace, artwork, and, although differing superficially, plot points and story structures, to express substantially similar themes."
"Defendants used the expression of substantial elements of the Goldman Zootopia, including the arrangement, selection, and combination of elements, to achieve a substantially similar concept and feel," the lawsuit says. 
The similarities, the lawsuit notes, even apply to minor details, such as character designs and specific lines of dialogue. Goldman's pitch, for instance, contained the line, "If you want to be an elephant, you can be an elephant." The completed film, likewise, uses the phrase, "You want to be an elephant when you grow up, you be an elephant." 
The lawsuit alleges that Disney has a history of stealing other artists' ideas, with similar plagiarism reportedly taking place in The Lion King; Monsters, Inc.; the trailer for Frozen; Inside Out; Toy Story and Up. 
"Don't worry if you feel like you're copying something, because if it comes through you, it's going to filter through you and you're going to bring your own unique perspective to it," the lawsuit quotes Zootopia director and writer Byron Howard as saying to artists. 
In an interview with Slashfilm about Zootopia's development, Howard and the film's co-director Rich Moore said they initially developed the film as a spy movie before it evolved into its completed form, which centers on a young rabbit detective and her wily fox sidekick. The pair were encouraged by Disney Animation's chief creative officer John Lasseter, who, Howard and Moore said, implored the filmmakers to "really make [the film] something different" and said he would "fully support any movie that shows animals running around in tiny clothes."
Now, Disney is staying faithful to its creative team in the face of Esplanade's lawsuit.
"Mr. Goldman's lawsuit is riddled with patently false allegations," a Disney spokesman said, as quoted by Variety. "It is an unprincipled attempt to lay claim to a successful film he didn't create, and we will vigorously defend against it in court."