Alphonza Watson, 38-year-old transgender woman, killed in Baltimore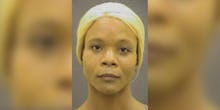 Transgender woman Alphonza Watson, 38, was found dead after being shot in Baltimore early Wednesday morning, the Baltimore Sun reported.
"At this time, we don't have a lot to go on," Baltimore police spokesman T.J. Smith told the Baltimore Sun. "What we know is that there was apparently some sort of argument that took place." 
Watson was shot in the stomach at about 4:15 a.m. and taken to Johns Hopkins Hospital, where she was pronounced dead shortly after arrival. Witnesses told police they heard someone yelling for help, followed by gunshots. Two men were seen running away before getting into a "dark-colored vehicle." 
LGBTQ advocacy group GLSEN Baltimore released a statement about Watson's death on Facebook, announcing safe spaces for community members who need to grieve.
The Baltimore Police Department posted a call for information about the crime on its Facebook page: 
According to WBAL, this is the 14th homicide of a transgender person in Baltimore since 2005. It's also the eighth reported killing of a transgender woman of color in 2017. 
Five transgender women of color were killed in February, including three alone in Louisiana.