What's new on Netflix? Here are the best movie and TV additions for April 2017.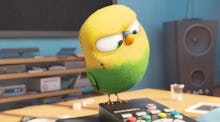 If you're a TV and film fanatic who's starting to run out of new viewing options, you're in luck. April arrives in just over a week — and with it, we'll welcome a whole new crop of movies and TV series available for streaming. 
You'll soon be able to head to theaters to catch blockbusters like The Fate of the Furious or check out the return of Fox's Prison Break. But if you'd rather not leave the house or you despise waiting an entire week between new episodes, Netflix will always be your best bet for reliable entertainment. 
Fortunately, as it does every month, Netflix is recycling some of its options. While that means you'll lose certain films and shows, you'll also gain a bunch of new ones for your viewing pleasure. So, if you're trying to plan your April binge-watching schedule, here are the best TV series and movies  coming to Netflix.
A Nightmare on Elm Street (April 1)
While this 1984 slasher film is clearly not for everyone, Wes Craven's A Nightmare on Elm Street is an absolute must-watch for fans of classic horror movies. The flick that launched a sprawling franchise introduced audiences to perhaps one of the scariest villains of all time: Freddy Krueger. 
A Nightmare on Elm Street is generally considered one of the greatest horror films ever made and was instrumental in launching a resurgence of slasher films in the late '80s and '90s. The years have also been incredibly kind to the film, which holds a well-deserved 94% on Rotten Tomatoes.
For your own psyche, though, this may be a film best watched in a group.
Gremlins (April 1)
1984 was a good year for the horror genre. Not only did A Nightmare on Elm Street bow, but so did Gremlins — admittedly, though, the latter is more of a comedy. While Gremlins isn't regarded quite as fondly as Craven's classic, it was still well-received and currently holds an 85% on Rotten Tomatoes. If you haven't seen it, it's worth a watch; if you have, you can probably skip adding it to your Netflix queue. 
Schindler's List (April 1)
Over a career spanning nearly half a century so far, Steven Spielberg has delivered innumerable masterpieces. From Jaws to Indiana Jones, Spielberg revolutionized the idea of a blockbuster film. But perhaps his greatest cinematic achievement — one that earned him his first two Academy Awards — is Schindler's List. 
In Schindler's List, Liam Neeson stars as Oskar Schindler, a German businessman credited with saving more than 1,000 Jewish lives during the Holocaust. Schindler's List is generally seen as one of the best movies of all time, so it's absolutely worth a watch once it hits Netflix. 
Something's Gotta Give (April 1)
Wes Craven may be the "master of horror," but when it comes to romantic comedies, few do it better than Nancy Meyers. The director — known for such successful films as What Women Want, The Holiday, It's Complicated and The Intern — wrote, directed and produced one of Jack Nicholson's more memorable films since the turn of the century: Something's Gotta Give. 
The rom-com also stars Oscar winner Diane Keaton, who earned yet another Academy Award nomination for her role as playwright Erica Barry. While Something's Gotta Give isn't likely to make any "greatest of all time" lists, it's still a charming flick perfect for a date night. 
The BFG (April 6)
With Marvel, Pixar, Star Wars and live-action remakes, Disney only has so many misses at the box office. Surprisingly, though, The BFG was one of them. The Spielberg-directed film — based on the Roald Dahl book of the same name — earned just $55 million domestically on a budget reportedly as high as $140 million. Even when you take international tallies into account, the film made just $183 million. 
Still, don't let box-office numbers fool you. The BFG is certainly worth a watch. While not as critically beloved as some of Spielberg's other films, The BFG still has a healthy 75% on Rotten Tomatoes. And now, because of Disney's deal with Netflix, the film is coming to the streaming platform less than a year after its theatrical release. 
Kubo and the Two Strings (April 8)
Disney may not give up its crown as the leader in animation anytime soon, but when it comes to critical darlings, there's another production company with a perfect record: Laika Entertainment. The stop-motion animation studio — known for Coraline, ParaNorman and The Boxtrolls — has received an Oscar nomination for best animated feature for every feature film it's produced. 
Kubo and the Two Strings kept Laika's streak alive, though it did lose to Zootopia in the end. With an impressive 97% on Rotten Tomatoes, Kubo is definitely worth a watch — especially if you're a fan of Laika's past films, or stop-motion animation in general.
DC's Legends of Tomorrow: Season 2 (April 12)
It would be completely understandable if you gave up on Legends of Tomorrow after its lackluster first season. But if you did, you've been missing out on a exponentially improved second season. Legends of Tomorrow has really hit its groove during its sophomore outing, with the team of time-traveling misfits taking on an Eobard Thawne-led Legion of Doom. 
If you haven't been watching season two, you can catch it in its entirety on Netflix, just over a week after the CW finale. 
Bill Nye Saves the World: Season 1 (April 21)
Who doesn't have fond childhood memories of Bill Nye the Science Guy? Between the show's lovable host and catchy theme song, the popular science program made learning fun. Now, Bill Nye is set to return with an all-new talk show, Bill Nye Saves the World.
The Secret Life of Pets (April 22)
Largely on the back of the Despicable Me franchise, NBCUniversal's Illumination Entertainment has become an animation force to be reckoned with. In 2016, Illumination added box-office hits The Secret Life of Pets and Sing to its library, with the two films combining for over $1.4 billion worldwide. 
If you ever wonder what your pets are up to when you're not home, The Secret Life of Pets sets out to give you an answer. 
Mic has ongoing coverage of Netflix. Please follow our main Netflix hub here.