After 'GQ' snubbed Serena Williams, the 'Fader' had the best clapback ever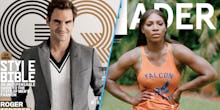 On Tuesday, GQ magazine tweeted the cover of its latest issue and teased it included an interview with "the greatest tennis player of all time."
Now, close your eyes and picture who you think is the greatest tennis player of all time. What have they accomplished? How renowned around the world are they? What's their gender? Who are they? 
Chances are, the person you're thinking about isn't who GQ just put on the cover of its annual Style Bible. 
Because who GQ called the greatest tennis player of all time is Roger Federer. He's a player with an undoubtedly illustrious career, but c'mon. 
This was essentially everyone on the internet at once: 
Federer? Really? Because if one person should be named the greatest tennis player of all time, there's really only one person who comes to mind. 
Serena fucking Williams. 
And while plenty of people let GQ in on that bit of information ...
... one Twitter interaction in particular doubled down. 
On Wednesday morning, the Fader replied to GQ's tweet with one of the greatest clapbacks of all time. 
"@GQMagazine," the Fader tweeted, "We caught up with the greatest tennis player of all time." The magazine then linked to its October cover and profile of Williams. 
People felt vindicated. 
At last, there was justice. 
It's a title ESPN and Fox Sports have already bestowed upon her, so why is there any need for a debate? The woman holds the record for the most Grand Slam titles and has won four Olympic gold medals. She's also cool as hell, but that's just a bonus.
Williams is an athlete who deserves respect and recognition from everyone on earth — and we guess Twitter and the Fader will keep on fighting the fight until everyone understands that.