London Attack: "Terrorism" suspected in Parliament and Westminster Bridge incidents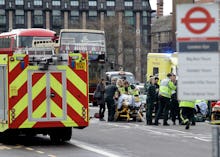 London police are now saying that a Wednesday incident in which an attacker stabbed a police officer outside of the British Houses of Parliament before being shot by police is being investigated as terrorism, CNN reported.
Police were reportedly called to Westminster Bridge, near the Parliament building, around 2:40 p.m. local time to respond to a "firearms incident," according to CNN. The Guardian reported on Wednesday that "photographs emerged of a number of casualties on Westminster Bridge" where it seemed several people had been struck by a car. 
Additionally, a car, not yet confirmed to be the same one involved in the casualties, crashed into the perimeter surrounding the Houses of Parliament. London police have not yet confirmed that all of the incidents are related.
The House of Commons was placed on lockdown and British Prime Minister Theresa May was safely evacuated, the Guardian reports.
In a statement, London's Metropolitan Police said they would treat Wednesday's attack outside of the Parliament building "as a terrorist incident until we know otherwise," CNN reported. The Associated Press reported that there was "increased chatter on jihadi networks Tuesday following the U.K.'s adoption of an electronics ban aboard flights from certain mostly Muslim countries," citing an unnamed European official.
People inside of the Parliament building were advised to stay away from windows, CNN reported.