Samsung Galaxy S8 release comes with 3-month return policy to show company's confidence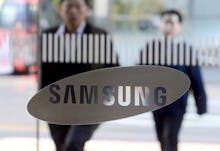 In exactly a week, Samsung is believed to unveil its first smartphone of the year — the Galaxy S8 — at an event in New York City. The device will be the first launch since the notorious release, recall and discontinuation of the Galaxy Note 7. The South Korean company reportedly suffered at least $5.3 billion in losses in the Note 7 debacle, so a lot is at stake with the release of the S8.
Ahead of the announcement, Korea's the Investor reports that Samsung will be taking a bold measure to show the world how confident it is in its new smartphone: Offering unconditional returns. Not much has been revealed about the supposed offer, but it should last three months after the release of the S8.
With the Note 7, issues appeared within weeks of the smartphone's August 2016 release. After the whole phones-catching-on-fire thing, Samsung issued a self-imposed recall of more than 2.5 million Note 7s on Sept. 2. 
Customers affected by the recall were offered replacement devices featuring batteries built by a different manufacturer. But many of these smartphones also overheated and caught on fire. In light of replacement devices featuring battery problems as well, Samsung opted to discontinue the Note 7. 
Earlier this year, the tech giant released a report citing two separate battery issues to be responsible for the Note 7 debacle. In conjunction with the report, Samsung also outlined what they are doing to prevent a similar situation from occurring again. One measure is to create a team of third-party advisers that includes professors from the University of Cambridge, the University of California at Berkeley and Stanford University. A second measure is creating an eight-point battery check that entails rigorous testing and an X-ray of handsets.
"Since the Note 7 recall, we've re-assessed every step of the smartphone manufacturing process and developed this 8-Point Battery Safety Check," says Samsung on its website. "It involves putting our batteries through extreme testing, inside and out, followed by careful inspection by X-ray and the human eye to ensure highest quality. This program is our commitment to safer devices now and in the future."
The S8 will come equipped with a 3,000 mAh battery, while the larger S8 Plus will feature a 3,500 mAh battery. BGR reports that Samsung is keeping a bulk of its battery manufacturing in-house for the Galaxy S8 — 80% will be made in-house while the remaining 20% will be made at Japan's Murata Manufacturing. Meanwhile, the Wall Street Journal reports that Samsung is roping in a third battery manufacturer.