Netflix releases 'Death Note' teaser, sparking another round of whitewashing criticism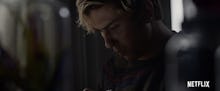 Another day, another major Hollywood adaptation coming under fire for whitewashing. Netflix released its teaser for their upcoming film version of the Japanese manga Death Note, which features shots of Paper Towns star Nat Wolff as protagonist Light Turner (name changed from Light Yagami in the source material).
The casting is old news at this point — the film's already been shot, after all. But that didn't stop this teaser, which is likely many fans' first exposure to the project, from inspiring backlash.
Death Note's story is a wild one: A teen, Light, finds a notebook. Any name written in the book results in that person dying. Naturally, the original owner of the notebook, Ryuk, causes Light a score of problems. The manga was a huge hit in Japan, and it's since been adapted into anime series, films, video games and more.
For this particular adaptation, director Adam Wingard explained that his hope was that the story would translate regardless of the race or ethnic background of its cast. 
"Our vision for Death Note has always been to bring this captivating story to the screen for its longtime manga fans and to introduce the world to this dark and mysterious masterpiece," Wingard said. "The talent and diversity represented in our cast, writing and producing teams reflect our belief in staying true to the story's concept of moral relevance — a universal theme that knows no racial boundaries."
Some, to put it mildly, disagree with him.
The teaser comes on the heels of Netflix's Iron Fist, which garnered critical derision for its quality as well as its failure to right a wrong in Marvel's past by casting an Asian actor in its lead role. Other recent works like Ghost in the Shell and Doctor Strange have come under similar scrutiny for casting white actors in traditionally Asian roles.
For those intrigued by Death Note who aren't interested in this particular version, the anime adaptation of the manga is currently available on Netflix.
Meanwhile, the Death Note adaptation hits Netflix Aug. 25.
Mic has ongoing movie coverage. Please follow our main movie hub here.