'Love Actually' cast appears 13 years later in 'Red Nose Day Actually' trailer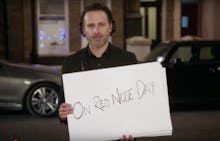 The first trailer for the Love Actually reunion, Red Nose Day Actually, has been released. It's been 13 years since the festive romantic comedy, directed by Richard Curtis, hit theaters, and some of the actors look quite different than they did while first navigating love in London at Christmas. 
The trailer begins with a decided throwback, as someone begins playing music on an iPod (remember those?). The cast then holds up signs, familiar to the now infamous, and spoofed, scene in Love Actually when Andrew Lincoln's Mark confesses his love for Keira Knightley's Juliet on cue cards.
"On Red Nose Day, unexpected things happen," reads one card, before the trailer takes a silly turn as they discuss who has aged the best. (Liam Neeson voted for himself.) 
The film's plot has not been officially discussed, but one of the questions asked by fans of the original is if the major couples are still together. At least one of the stars has offered an answer. 
Some, but not all of the original film's cast is reuniting to make the film for Red Nose Day, a celebration to raise money to help fight poverty and injustice in the U.K. and Africa. Comedy and documentary films are shown on BBC One in honor of the day. 
Red Nose Day Actually will air during the Red Nose Day broadcast on March 24 on BBC One in the U.K. It will be broadcast on NBC on May 25 in the United States. 
Mic has ongoing Love Actually coverage. Please visit our main Love Actually hub here.