Richard Simmons Conspiracy Theories: What's going on with the fitness guru?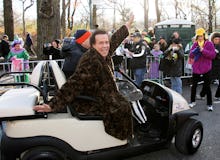 Fitness icon Richard Simmons has not been seen in public in over three years. 
So, where in the world is he?
Ever since Simmons exited the public eye, the internet has run amok with conspiracy theories. Rumors circulated that the icon has remained in hiding for so long because he is transitioning into a woman. Others claim he has had an ongoing illness, and there have been reports that he is even being held hostage in his own home. 
Now, with the popularity of the podcast Missing Richard Simmons, the baffling story is being revisited. 
The workout icon's brother, Lenny Simmons, spoke out recently to debunk the theories. In an appearance on Missing Richard Simmons, Lenny said his brother is just taking time for himself. "For some reason he wants to be quiet, which is the complete opposite of how he normally is," he said, according to People. "I don't understand it, but I have to respect it."
Tom Etsey, Simmons' rep, told People that the onetime fitness guru has made a choice to live a more private life these days. He also shot down any theory that the legend is currently sick. "Richard made a choice. To live a more private life. If he decides to come back, he'll come back," Etsey told the magazine in a statement. 
The claims regarding Simmons' appearance have ranged from the absurd to the scary. In 2015, police visited the Sweatin' to the Oldies star's home after an elder abuse claim. But once again, Simmons was fine, and TMZ reported that the cops said he couldn't have been nicer. 
At the same time, there were allegations that Simmons is missing as a result of witchcraft, but those remain unfounded. 
Mic has ongoing celebrity coverage. Please follow our main celebrity hub here.