Student Debt Survival Guide: Why college isn't free — and how to handle dastardly loan servicers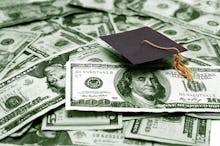 College debt can be scary. When you're fresh out of school and bringing in your very first — and likely very modest — paychecks, it's hard to imagine how you'll ever be able manage to pay off tens of thousands of dollars in loans.
But here's the thing: You can do it, and Mic is here to help. In the latest episode of the Payoff podcast, we're all about actually understanding student loans. 
Our hosts, Antonia Cereijido and Chris Duffy, confront their own loan confusion and get expert advice from Heather Jarvis, a lawyer and student loan consultant who offers student debt training and advice. 
Then we hear how the federal government thinks about student debt from former Department of Education Undersecretary Ted Mitchell, who oversaw federal student aid from 2014 to 2017 under President Barack Obama. 
To cap it off, we learn why Navient, the biggest student loan servicer around, was fined millions of dollars for shady student loan-handling methods. 
Do you have ideas for money topics we should cover? Send us an email at PayoffPod@mic.com.
Subscribe to The Payoff on iTunes, Google Play, Spotify, Stitcher, iHeart Radio, tunein or wherever you listen to podcasts. Please rate and leave a review, and stay tuned for new episodes every other Wednesday!