Health Care Vote Thursday: What to know ahead of House vote on Trump's health care plan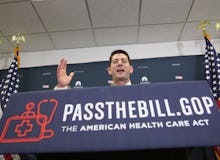 The immediate fate of the American Health Care Act will be decided on Thursday, when the House of Representatives puts the much-maligned bill to a vote.
"The American people gave us clear instructions. It's time to get busy, get to work and get the job done," President Donald Trump said at a dinner hosted by the National Republican Congressional Committee, CNN reported. "That legislative effort begins with Thursday's crucial vote and it really is a crucial vote for the Republican Party and for the people of the country."
Here's what you need to know ahead of the high-profile vote.
What is the AHCA?
The AHCA — or Trumpcare, as it's colloquially known — would replace the Affordable Care Act with a number of changed provisions, including providing tax credits instead of federal health care subsidies, ending the ACA's Medicaid expansion and replacing the current mandate on purchasing health care with a 30% surcharge on insurance premiums for those who forego coverage for more than 63 days.
The Congressional Budget Office projected that an additional 24 million Americans would be uninsured by 2026 under the new health care plan.
In response to widespread criticism — including from many Republicans — lawmakers released changes to the bill on Monday in an attempt to shore up more conservative support. These changes include allowing states to require some Medicaid recipients to work, speeding up repeals of the ACA's tax increases on wealthy Americans and expanding tax deductions on older Americans to help offset higher premium costs.
The CBO has not yet released an updated projection of the bill's effects with the new changes; they are expected to do so by Wednesday night.
Democrats on the House Rules Committee submitted a motion to adjourn until the new effects were known during a meeting on Wednesday to determine rules for Thursday's floor vote, though the motion was rejected in a party-line vote of seven to two.
During Thursday's vote, Democrats are expected to give substantial testimony on how detrimental the bill would be, though they are unlikely to propose any new amendments, CNN reported.
"This bill is so badly flawed that there's no fixing it," a congressional aide told CNN.
Projected votes
The AHCA needs 216 votes in the House in order to pass, and with no Democrats currently expected to vote in favor of the bill, Republicans need to ensure that no more than 21 members of their party vote against the health care act.
That may not be possible. Many conservatives, including both moderate conservatives and far-right members of the Freedom Caucus, remain opposed to the bill, seeing it as either harmful to their constituents or not going far enough to distance itself from the ACA.
As of Wednesday afternoon, CNN counted 26 Republican representatives who are voting against the bill or leaning toward opposing it; the Post estimated there could be more than two dozen.
Members of the Trump administration have been meeting with Congressmen opposed to the bill in an attempt to whip the necessary votes, suggesting to representatives that their opposition could come back to hurt them in the 2018 midterm election.
If it passes, what's next?
If the AHCA makes it through the House on Thursday, it will go to the Senate, where Sen. Majority Leader Mitch McConnell is set to introduce it right away.
"If the House passes something, I will bring it up," McConnell told the Post. "We'll try to move it across the floor next week." 
With Republicans holding a 52-seat majority in the Senate, the bill could fail in a majority vote if just three Republicans oppose it. And that shouldn't be too hard; at least 12 GOP Senators have already publicly objected to portions of the bill, according to Vox.
It's possible that the bill could continue to evolve once it clears the House, possibly allowing it to gain some additional Republican support.
"Look, this is a legislative process," House Ways and Means Committee Chairman Kevin Brady said, the Post reported. "I assume the Senate will continue that improvement process as we hand this ball over to them."