Westminster Terror Attack 2017: Here's what happened Wednesday outside UK Parliament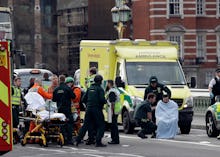 On Wednesday afternoon, a car slammed into pedestrians on the Westminster Bridge in London, leaving a trail of dead and wounded in its wake.
A man wielding a knife — who police now believe to be the sole attacker — exited the vehicle and fatally stabbed a police officer as he fought to enter the U.K. Parliament building. The assailant, whose identity has not been released, was shot on sight by police.
Members of British Parliament were immediately placed on lockdown inside the chambers, and Prime Minister Theresa May was whisked away from the scene.
Scotland Yard confirmed that at least four people are dead in the aftermath of the attacks, Foreign Policy reports, and at least 20 more are wounded. During a press conference, the agency assured Londoners that "a full counter-terrorism investigation" was already underway.
Although the identity of the assailant is still unknown, acting Deputy Commissioner and Head of Counter-Terrorism Mark Rowley told reporters that police are "satisfied at this stage that it looks like there was only one attacker," according to Fox News.
Harrowing photos and video footage captured the graphic scene at the time of the attacks.
London Metropolitan Police said in a statement that they would treat the situation as a terror attack until it could be proven otherwise.
An international outpouring of grief and support followed in the wake of the attacks. President Donald Trump spoke with May to offer condolences and praise the authorities who responded to the incident, according to a Facebook post.
In a press release, United States Secretary of State Rex Tillerson expressed condolences on behalf of the American people, and condemned the "horrific acts of violence."