Today in Trump-Russia News: Paul Manafort reportedly worked on behalf of Russian interests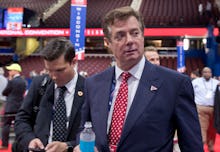 It's not easy to keep up with the ongoing soap opera of allegations, denials, leaks and that compose the Trump-Russia mess. But we've got you covered. Here's what the past 24 hours have looked like. 
More of Manafort
After Tuesday's New York Times report alleging that former Donald Trump campaign manager Paul Manafort may have tried to cover up illicit payments from the former Russia-backed leader of Ukraine, the Associated Press on Wednesday released a new report claiming Manafort previously worked for a Russian billionaire with close ties to Russian President Vladimir Putin. 
According to the Associated Press report, Manafort was hired in the mid-2000s to run a clandestine campaign to improve the perception of Putin's government in the United States. In 2005, Manafort wrote a strategy plan for Putin ally Oleg Deripaska, in which he claimed he had a strategy that could "greatly benefit the Putin government if employed at the correct levels with the appropriate commitment to success." 
In 2006, Manafort reportedly signed a $10 million annual contract with Deripaska and continued his association with the billionaire until at least 2009.
House Intel Chair: Deep state collected Trump team communications
During a Wednesday press conference, House Intelligence Committee chair Rep. Devin Nunes (R-Calif.) said he "recently confirmed that, on numerous occasions, the intelligence community incidentally collected information about U.S. citizens involved in the Trump transition," according to CNBC.
He also alleged that details about individuals close to the Trump administration — who had "little or no apparent foreign intelligence value" — were disseminated within the intelligence community, adding that names of Trump transition officials were "unmasked" or improperly revealed. Nunes also stressed the surveillance was "unrelated to the investigation into Russian meddling in the 2016 election."
Nunes' accusations are important — not only because they suggest even more Trump campaign officials were under investigation, but also because under U.S. law, the intelligence community usually cannot surveil the calls of U.S. persons without a warrant from the Foreign Intelligence Surveillance Court, according to Bloomberg. Many have wondered how, under those conditions, transcripts of Michael Flynn's phone calls with Russian Ambassador Sergey Kislyak were released. 
Even more transmissions from the Manafortress
In the wake of new revelations, journalist Yashar Ali has been sharing old interviews with and about Manafort that are worth re-examining.
For instance, there's Manafort's awkward answer to a question from CBS's Nora O'Donnell about Russia and the Trump campaign:
Consider this Newt Gingrich comment that casts doubt on White House press secretary Sean Spicer's recent claim that Manafort played a "very limited role" in the Trump campaign:
And finally, take a look at this archival news clip about a Department of Housing and Urban Development scandal in which a young Manafort admitted to "influence peddling" before a committee:
Oops.
And Now for Something Completely Different: Joe Biden
Former Vice President Joe Biden emerged from political nowhere-land Wednesday to blast Trump's "romance" with Putin. Biden also criticized reports that Secretary of State Rex Tillerson planned to skip a major NATO heads of state meeting — the first since Trump's election — and visit Russia instead.
In what appeared to be an attempt to tamp down concerns about that story, Spicer announced that Trump himself would attend a future NATO meeting.