30-year-old man sues NYC bar for allegedly discriminating against him and his MAGA hat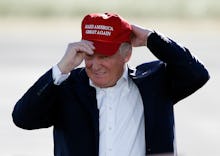 President Donald Trump's signature stoplight-red Make America Great Again hats have been an enigma since their 2016 debut. 
The phrase, embroidered in white thread in all caps to really get the message across, was questionable. Was America not already great? When was America greater? Does the very idea write off the efforts of women and minorities who have spent centuries fighting for equal rights?
Wearing the hat, to some, became the uniform of the bigoted. Think Trump's immigrant rhetoric is fine? Not offended by the way he treats women? The hat indicates to certain crowds that its wearers condone decades of unsavory behavior by the 45th president of the United States. 
One MAGA hat wearer, 30-year-old accountant Greg Piatek, reportedly suffered the consequences of wearing the cherry cap in an anti-Trump environment. Piatek has now filed a lawsuit in Manhattan Supreme Court to seek reparations, though his story doesn't line up with reports from others who were present at the bar that night. 
On Jan. 28th, during a trip from Philadelphia, Piatek visited Downtown New York City bar The Happiest Hour along with two of his friends — and his MAGA hat — following a trip to the 9/11 memorial, the New York Post reported.
Allegedly, Piatek ordered a $15 jalapeño margarita (margaritas main spirit, tequila, is imported from Mexico, FYI) and his friend were served beers at the trendy bar. 
Upon trying to order a second round, Piatek and his friends found it difficult to procure their next beverages, as often happens at Manhattan bars pretty much any night of the week. Piatek, who was wearing his pro-Trump hat backward, claims that the bartenders only noticed his hat's messaging when he turned around, and therefore planned to ignore him during the return trip to the bar. One bartender reportedly asked Piatek if his hat was a joke, though poor fashion sense is never really funny. 
"Immediately it clicked," Piatek told the Post. "Ignoring me because I'm wearing the hat is ridiculous. It's really sad."
Though it's one of Trump's favorite adjectives, "sad" may not be appropriate for the situation. Pietek and his friends did eventually get that second round order in, after which a bartender allegedly "slammed the drinks down" — again, as bartenders do at crowded bars during busy times.
Piatek also said that another bartender shouted at him: "I can't believe you would support someone so terrible and you must be as terrible a person!" 
Eventually, Piatek and his buds were escorted out, with a manager reportedly saying, "Anyone who supports Trump or believes what you believe is not welcome here. And you need to leave right now because we won't serve you!"
No audio or video recordings have yet surfaced from the evening in question, but a source close to the bar's owner, who asked not to be identified, said that the customer in question reportedly verbally abused a female bartender, telling her she would burn in hell. This was only after this same group had been served multiple rounds of drinks and lingered at the bar, never actually being refused service until the alleged incident. "Yes, there was tension in the crowd, and when the staff determined violence was likely, they asked him to leave," the source reported. 
"[The customer] stayed for over 3 hours, so it's not like we saw his hat and asked him to leave. Had he not been about to get into a fight with another customer, he could have stayed," the source added.
Piatek's lawyer, Paul Liggieri, who specializes in harassment and discrimination cases, told the Post that Piatek's experience at the bar was "humiliating" and was his client's "saddest hour." Sad! 
The Happiest Hour shared the following statement with Mic: 
"The Happiest Hour is an inclusive environment that welcomes diversity and people of all beliefs, even people with political views that our managers, wait staff and customers may disagree with. We do however reserve the right to ask people to leave who are being disruptive and rude, as was the case here. Now that the incident is behind us, Happiest Hour is back to being great again." 
Piatek's filed complaint has since been marked as redacted.
March 23, 2017, 10:04 a.m.: This story has been updated to include information about the lawsuit's redaction.