London Attacker: What we know about the driver in Wednesday's terror attack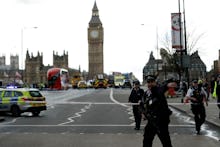 An attacker drove a car into the gates surrounding the U.K. Houses of Parliament in London on Wednesday, stabbing a police officer before authorities shot him. 
Scotland Yard's assistant commissioner and head of counterterrorism, Mark Rowley, did not release the attacker's name, but police believe he acted alone, according to the Guardian. The incident is being treated as a terror attack.
Rowley confirmed that four people died in the attack, including the attacker and the officer the attacker stabbed. The other two people reportedly died on Westminster Bridge, which the attacker crossed on his way to Parliament. 
Three police officers and 17 civilians were injured. The Guardian reported that three French teens studying at the Saint-Joseph de Concarneau lycée were among those injured. Two are reportedly in critical condition.