GameStop Nintendo Switch Stock Update: Bundles and bungles give gamers a headache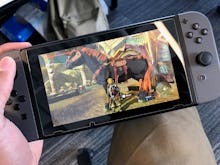 The Nintendo Switch launch hasn't been particularly smooth — and that's putting it nicely. While the company has seen monstrous sales of the console and many are impressed with the system, the Switch has encountered some initial trouble spots since its March 3 launch. From its Joy-Con controller bugs to a barren eShop with few games, the early days of the console have been a struggle. Then there are the Nintendo Switch's seemingly endless stock supply issues.
Like the NES Classic during the holiday season, Nintendo has run out of Switch units. Even though the company said it wouldn't be an issue. This week, GameStop was supposed to save the day. The company claimed that on Wednesday, you would be able step inside a store and walk out with the Switch. Sadly, this wasn't the case for many.
Nintendo Switch GameStop Restock: Things aren't going well
GameStop tweeted Monday it would receive more Nintendo Switch stock in a couple of days. Additionally, buyers would be able to trade in their current consoles for credit toward the new one. Of course, that only works if the new Switch stock actually shows up.
Several GameStop stores in the New York area confirmed to Mic they never received their promised restock of the Nintendo Switch on Wednesday, though some claimed the units would arrive on Thursday instead. Still, that's not much help for the Nintendo fans who GameStop says queued up outside its stores on Monday night or early Tuesday morning in the hopes of getting their hands on the Switch.
Other stores confirmed they won't sell the console on its own, instead opting to bundle the Switch with other games. These bundles can push the system well beyond its $299.99 price tag, while forcing customers to pay for games they might not want.
Nintendo Switch restock mess: Fans respond
Some potential Switch buyers have spoken out about GameStop's messy Switch restock blunder, and people are not happy. Here are a few examples from Twitter:
Finally, check out this impressive Twitter rant:
Users on Reddit also confirmed that GameStop's Switch restock was spotty at best. One user, PatriotRDX, described a similar disappointing experience. Other commenters, including spy890, managed to purchase a console. Redditor zfowler22 also noted that their local store actually received stock a day early, but only had five units.
Nintendo Switch restock mess: How to get one
Some GameStop stores said they'll receive about five consoles whenever the restock arrives. So your best bet will be to either give in and purchase a console bundle on GameStop's website or call your local store to check on availability and hope for the best.
On the bright side, GameStop isn't allowing anyone who already purchased a Switch to buy one of these new units. 
So there's hope — sort of. As Mic recommended previously, call your local GameStop before making any moves. Then pray to Reggie they even receive stock.
Check out more Nintendo Switch news and coverage
Looking for more Nintendo Switch news? Check out how blind gamers are using the Nintendo Switch. Nintendo's left Joy-Con issue turns out to be a hardware problem, find out how to solve it. Find out how to buy one amidst the recent restock. Learn why the Switch cartridges taste so bad. Check out our comparison photos sizing up the Switch to the Wii U GamePad (part one and part two), find out how to make use of ethernet without the dock and the best way to get alerts when new stock arrives.