The Women's March boosted poster board sales by 33% in January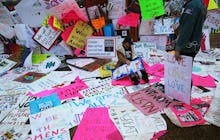 If you went to your local arts and craft store in January only to find a desolate wasteland in the poster board aisle, you weren't alone.
According to new data from consumer research group NPD, activists gearing up for inauguration demonstrations drove up the sales for poster board by 33%, and the sales for foam board — once reserved for elementary school projects — by 42% during the week before the Women's March.
In total, art suppliers sold some 6.5 million poster boards throughout the month, one-third of which sold during the week of march.
Other supplies like paint markers, permanent markers, glue and scissors also saw sizable boosts as compared to other weeks in January.
Washington resident Courtney Weber told the New York Times that when she hosted a joint birthday and sign-making party on Jan. 18, she had a hard time getting her hands on supplies.
"We were calling around for posters, and everyone was sold out for a five-mile radius," she told the outlet.
Leen Nsouli, director and industry analyst for office supplies at NPD, said the new data means retailers should monitor protests to prepare for "product demand" so customers don't experience such a dearth of supplies in the future.
In the meantime, a number of the 6.5 million signs that were marched along the National Mall, down Los Angeles' palm tree-lined streets or up Fifth Avenue to Trump Tower are even set to be featured in libraries and museums around the world — a far more prodigious fate than the poster board you used for your second grade science fair project.