6 Iggy Azalea lyrics that reveal her musical influences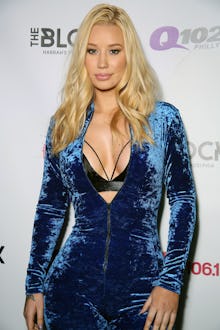 This month, Iggy Azalea began teasing "Mo Bounce," her new single set to be available for download and streaming on Friday, March 24. The Aussie rapper released colorful GIFs to get fans excited for the drop.
Although she hasn't put out a release date as of yet, Azalea is gearing up to drop her second studio album, Digital Distortion, this year. As fans prepare for the followup to Azalea's The New Classic, we explore some of her musical influences as told through her music. Here are 6 lyrics that reveal who Iggy Azalea looks up to in the music game. 
1. "Shuffle the deck, I be the queen in the pack/ Gotcha, Lady Patra."
Azalea references Patra, a popular '90s Jamaican dancehall artist. Her debut album was called Queen of the Pack.
2. "White chick on that Pac shit/ My passion was ironic."
In the past, Azalea has mentioned that 2Pac was a major influence on her work. 
"Everything subconsciously influences you but 2Pac influences me by being vulnerable in your music and be unapologetic about contradicting yourself," she told Complex. "He showed he was human and people loved him."
3. "Studied the Carters til a deal was offered."
It is unclear which Carter she is referring to. She could be referring to Jay Z, aka Shawn Carter, or Lil Wayne, aka Dwayne Michael Carter Jr. Both are not only successful musicians, but also have their own labels and have conquered the business side of music.
4. "Diva, but I need a bad boy, rest in peace, Whitney."
The rapper wants to be like the late powerhouse singer Whitney Houston, who was once married to R&B bad boy Bobby Brown. 
5. "(Hell nah) Go and give 'em all the finger/ You gotta set the score right, call it Hans Zimmer."
Hans Zimmer is a legendary German composer who's scored a long list of award-winning films including The Lion King, Gladiator and Pearl Harbor. Azalea sees Zimmer's talents as admirable and a mark of excellence.
6. "Iggy, do it Biggie, tell 'em keep sending bottles, I'mma pop fifty."
Iggy plays on the the nickname of the late Notorious B.I.G. as she raps about reveling in a night of bottle popping. 
Mic has ongoing Iggy Azalea coverage. Please follow our main Iggy Azalea hub here.