Kristi Yamaguchi told Nancy Kerrigan to "break a leg" and the internet can't take it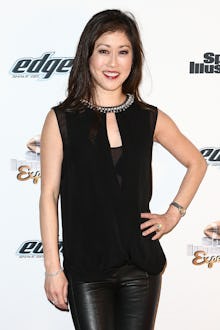 There's got to be a point deduction for this. 
On Wednesday, the internet began to pay attention to a two-day-old tweet from Olympic figure skater Kristi Yamaguchi to fellow Olympic skater Nancy Kerrigan. The tweet wished Kerrigan luck on her upcoming season of Dancing With the Stars.
"So excited for you @NancyAKerrigan!" Yamaguchi wrote. "Can't wait to see you grace that ballroom floor, break a leg!" 
While "break a leg" is a typical way to extend well wishes to someone, the turn of phrase may not have been the best for Kerrigan, who was infamously struck in the knee while preparing for the 1994 Winter Olympic Games' qualifying rounds. The bash to the leg infamously jeopardized a then-24-year-old Kerrigan's chances of competing. 
It was later revealed that rival skater Tonya Harding's husband hired the hitman who bashed Kerrigan's leg. The incident became a national scandal and the subject of many documentaries, including Anything to Win and The Price of Gold. 
People were quick to point out Yamaguchi's poor choice of words. 
As of Wednesday afternoon, the tweet was still live on Twitter.