'Grey's Anatomy' Season 13, Episode 17 Recap: Maggie and Owen learn the truth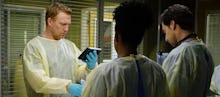 (Editor's note: This recap contains spoilers from season 13, episode 17 of Grey's Anatomy, "Till I Hear It From You.")
After its most recent Japril-centered episode, Grey's Anatomy wastes no time jumping back into the thick of things at Grey Sloan Memorial Hospital. When we last left the gang of unrealistically hot doctors who all happen to work in the same place, practically everyone was engaged in some sort of conflict.
Richard slept in an on-call room to avoid Catherine, who was instrumental in Minnick replacing her husband as head of the hospital's residency program; Amelia evaded Owen after their last blowout, when she confessed she didn't want to have children and then promptly moved out; and Alex and Riggs butted heads over the best course of treatment for a patient, with Meredith caught in the crosshairs. 
Let's check in with the three major storylines in season 13, episode 17 of Grey's Anatomy. 
Maggie learns the truth about her mom
The episode opens with Mer and Alex taking Maggie to pick up her mom at the airport. After undergoing a successful round of chemo at home, Diane's back in Seattle to have Jackson perform a mastectomy and breast reconstruction. Maggie still thinks she's getting a "boob job," however, and isn't exactly supportive of the idea. It's pretty difficult to watch Maggie throw shade while she's in the dark about her mother's cancer diagnosis, but Diane still refuses to tell her daughter the truth — even with Jackson's piercing blue eyes pleading with her to do exactly that. 
She's finally convinced when Jackson says telling Maggie is a condition of him performing the surgery at all. Needless to say, Maggie's devastated, and the scene of her realizing the gravity of her mother's illness as the camera slowly zooms in on her face is nothing short of devastating. She confronts Jackson as he's scrubbing in for surgery the next day, demanding to know why he didn't tell her — or, more accurately, how he could let her talk to her mom like that. But despite his friendship with Maggie, Jackson was ethically bound to keep his patient's secret.
Unfortunately, the resolution to this storyline will have to wait for another day: Though it's assumed Diane survived the surgery, the last time we see Maggie is when she confides in Mer about what's really going on. Let's hope the elder Pierce doesn't join the long list of Grey Sloan's dearly departed.
Amelia and Owen are still at odds
Amelia and Owen's honeymoon period came to a screeching halt a few episodes ago, when the former — who had just discovered she wasn't actually pregnant — told her husband she didn't want to have a baby after all. Owen returned home in the midseason finale to find a goodbye letter from Amelia, and he's been struggling to understand her abrupt disappearance ever since. Of course, he didn't know Amelia had a child once before, a baby born without a brain who died less than an hour after birth.
The estranged spouses are thrown together on the case of Elsie Clatch, a 95-year-old retired surgeon who fell while hiking with her husband, Lewis, also a former surgeon. The couple charms DeLuca and Edwards with stories of their surgical pasts and 60-year marriage. Unfortunately, Elsie has a brain bleed, and her age and other factors make surgery a risky option — one that won't necessarily save her life. Though Lewis is adamant that Elsie shouldn't have the procedure, she insists on going through with it in hopes of getting a little more time with her beloved. 
Fed up with not knowing when — or if — Amelia's coming home, Owen demands some answers, a request the neurosurgeon immediately rebuffs. She's obviously hurting and doesn't know what she wants, but she's also hesitant to tell Owen the truth about her past. I have to admit, I'm on Team Owen here; while I feel for Amelia, keeping her husband in the dark isn't fair to him or their fledgling marriage. 
Since this is Grey's Anatomy and all, I'm not entirely unprepared when Elsie dies a little while after surgery — though it didn't stop me from sobbing when Lewis is the one to tell Amelia her time of death, all the while continuing to hold his dead wife's hand. C'mon, Shonda!
By the end of the hour, Amelia and Owen are no closer to mending fences. She does finally tell him she's been pregnant before, though she's pretty short on details. But while I'd much prefer Owen to be with Cristina, that ship has long since sailed — so I'd really like him to find some happiness in marriage number two.
Mer and Riggs take a tiny step forward
Following Mer's steamy hookup with Riggs in season 12, she's been holding the former soldier at arm's length, in large part due to Maggie's crush on him. Not one to be easily deterred, Riggs has pursued her ever since. After months of outright flirting and thinly veiled banter, he finally admitted a couple weeks ago that he can't stop thinking about her. He's "in," and he wants Mer to call him when she decides if she's in, too.
Unsurprisingly, Mer's hesitant to pull the trigger on another serious relationship — after all, she's a widow and busy surgeon with three kids at home. When Riggs presses her for an answer, Mer points out she doesn't really know him. He's asking her for something, but she needs him to give her a reason why she should make the leap. 
Her request leaves Riggs temporarily tongue-tied, but it's not long before he delivers a McDreamy-level speech about how he couldn't move the first time he saw her laugh. He may not be able to articulate exactly why she should date him, but he's asking anyway. And Meredith, smiling in a way she hasn't smiled in a long time, accepts.
Grey's Anatomy airs on ABC at 8 p.m. Eastern on Thursdays.
Mic has ongoing Grey's Anatomy coverage. Please follow our main Grey's Anatomy hub here.