'Old-Time Hockey' Release Date: When will newest arcade hockey title hit PS4 and Steam?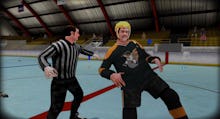 What happens when Blades of Steel, Ice Hockey, NHL Hitz and some elements of simulation hockey are blended? You get a game like V7 Entertainment's Old-Time Hockey. 
The developers of Old-Time Hockey aimed to capture a retro, more brutal brand of hockey, while still providing a controller and gameplay concept that is fun and still requires a measure of strategy to be successful.
Take a look at this trailer:
Old-Time Hockey release date: PS4, Xbox One and PC
The game releases on PS4 and Steam on March 28. Per the official website, it's also coming to Nintendo Switch and Xbox One.
As you can tell by the trailer, the action is cartoonish but brutal. To quote the 2007 film: "There will be blood." 
Aside from the maniacal fights, Old-Time Hockey sports some nice animations and a variety of teams and players. This doesn't look like a Triple-A title, but it still offers a pretty full set of features.
There is a story mode, a full season and stat tracking. There's also three controller profiles.
One is called beer mode which is designed to let you play the game with one hand "so you can hold and drink your beer with the other!"
In case you're wondering, the game has an M-17 rating.
The buzz on Old-Time Hockey may not be as strong as the hype for another indie sports title Disc Jam, but it could be a sleeper release as NHL playoff season rolls around.
More sports gaming news and updates
Are you a sports gamer? Check out more content from Mic, including tips for leveling up your NBA 2K17 MyPlayer, playing quarterback in Madden 17, the latest information on MLB The Show 17 and the classic Nintendo sports games we want to see on the Switch.