Westminster Attack Update: 8 arrested, police say they know who attacker was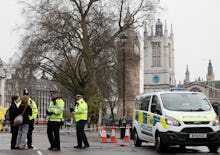 While Scotland Yard has yet to release the name of the man who drove a car into Parliament's gate and fatally stabbed a police officer on Wednesday, they do think they know who he was — and have arrested eight people in connection with the attack, the Washington Post reported.
"It is still our belief — which continues to be borne out by our investigation — that this attacker acted alone and was inspired by international terrorism," Scotland Yard's acting Deputy Commissioner and head of counterterrorism, Mark Rowley, said Thursday morning. 
Four people died during the attack, including the perpetrator and the police officer he stabbed, Keith Palmer. The other two died on Westminster Bridge, where the attacker apparently hit them with his car, en route to the Houses of Parliament. According to the BBC, at least 40 people sustained injuries, seven of whom are currently in critical condition. Police officers wounded during the attack are reportedly stable, though.  
In a statement posted to Facebook, British Prime Minister Theresa May called the attack "sick and depraved," and, unequivocally, the work of "terrorists." 
"But let me make it clear today, as I have had cause to do before, any attempt to defeat those values through violence and terror is doomed to failure," May wrote. "Tomorrow morning Parliament will meet as normal. We will come together as normal. ... And we will all move forward together, never giving in to terror, and never allowing the voices of hate and evil to drive us apart."
According to the Post, May is scheduled to speak Thursday before the House of Commons. Members of Parliament also returned to work.