Anti-abortion lawmaker: Rape, incest "will of God," but God can "bring beauty from ashes"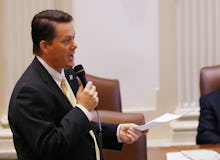 A male Republican lawmaker has suggested that rape and incest are not simply crimes that often devastate their victims, but sometimes also the "will of God," according to the Huffington Post. Sometimes, he said, God will "bring beauty from ashes" — a baby.
While defending anti-abortion legislation that would bar women from terminating pregnancies on the basis of a Down syndrome diagnosis or "genetic abnormality," Oklahoma Rep. George Faught was asked about the bill's omission of the typical exceptions to abortion restrictions: rape and incest. 
According to Raw Story, when Rep. Cory Williams asked Faught if he saw rape as "the will of God," Faught replied:
Well, you know, if you read the Bible, there's actually a couple circumstances where that happened. The Lord uses all circumstances. I mean, you can go down that path, but it's a reality unfortunately.
Incest, Williams asked? "Same answer," Faught said.
"Obviously if it [rape and/or incest] happens in someone's life," Faught continued, according to Raw Story, "it may not be the best thing that ever happened, but — so you're saying that God is not sovereign with every activity that happens in someone's life and can't use anything and everything in someone's life and I disagree with that."
But Faught wasn't done. In a statement to the local NBC News outlet, he offered an explanation of his reasoning that suggested God works in opportunistic ways.
"Life, no matter how it is conceived, is valuable and something to be protected," Faught said. "Let me be clear, God never approves of rape or incest. However, even in the worst circumstances, God can bring beauty from ashes."
With 67 votes in its favor, the bill passed the Oklahoma house and now moves to the state senate. And just as its content will be familiar to anyone who keeps tabs on state-level abortion legislation, so too is Faught's rhetoric. In fact, it sounds uncomfortably like Missouri Rep. Tila Hubrecht's argument that pregnancy is the "silver lining" of rape. 
What a time to be alive and have a uterus.