James Harris Jackson: What we've learned about NYC stabber's racially-charged motive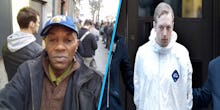 James Harris Jackson — a 28-year-old army veteran from Baltimore — fatally stabbed a black man named Timothy Caughman with a 26-inch sword in Midtown Manhattan on Monday night, the New York Daily News reported. 
When Jackson turned himself in, he told police that he had made the journey specifically intending to "target male blacks" according to the Daily News. 
"He wanted to make a statement," NYPD assistant chief William Aubrey said in a Wednesday press conference, according to News 4 New York.
Police arrested Jackson on suspicion of murder, and have since charged him with murder. They reported that he arrived in New York on March 17 and booked a room in a hotel. Jackson was apparently just walking around, looking for targets, when he spotted 66-year-old Caughman, who was collecting bottles around West 36th Street and 9th Avenue, according to the Daily News. He reportedly followed another man for some time before he attacked Caughman, stabbing him repeatedly with the sword hidden under his overcoat. 
Jackson, who served in Afghanistan, allegedly planned to stab a black man and then "shoot some people" with a gun he planned to steal from a cop, a police source told the Daily News. 
"[Jackson's] just one of those people that you wish you never met," Marcus Dagan, who informally managed an apartment building where Jackson lived, told News 4.
A Twitter user shared what looks to be Jackson's YouTube channel. No videos have been uploaded by the account, but some have been liked, and they're telling: The YouTube user who is presumably Jackson favorited "Is It Time for Whites to Start Voicing Their Displeasure With Black on White Crime?" and "Blacks Know That Blacks Are Violent So Why Does the White Media Pretend They Are Not?" Among this user's followed accounts are nationalist channels, the White House and PewDiePie, the YouTube star who posted a series of videos in February featuring anti-Semitic imagery, which he said was a joke but really just looked like some Nazi idolatry. 
According to the Daily News, Jackson told police that he belonged to a white supremacist group. He also told them that they would find ample information about his racist beliefs on his computer, which authorities have in their possession. Before they can search it or Jackson's cell phone, though, they need a warrant. 
"Based on certain information it appears that this subject has been harboring these types of feelings for quite some time," Aubry said, according to the Daily News. "It's been over 10 years that he's been harboring these feelings toward male blacks."