Is Kendrick Lamar making a new album? Here's what we know so far.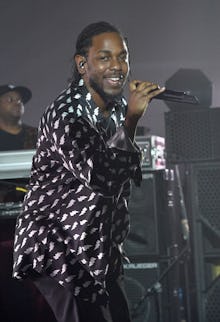 Kendrick Lamar posted a photo of the Roman numeral "IV" to his Instagram account Thursday morning. Fans believe the rapper is alluding to his next album, which would be his fourth release. 
A drop date has not been revealed and there was no caption for the post. Either way, the artist's fans are pretty excited to see Lamar might be making a return pretty soon:
In early March, Lamar confirmed that he has a new album in the works, in an interview with T magazine. The recording artist shared that the record is an "urgent" project made with his community in mind. 
"I think now, how wayward things have gone within the past few months, my focus is ultimately going back to my community and the other communities around the world where they're doing the groundwork," he said in the interview.
This untitled project Lamar is teasing would be the follow-up to his third album, To Pimp a Butterfly.
Mic has ongoing Kendrick Lamar coverage. Please follow our main Kendrick Lamar hub here.