London Terror Attack 2017: Arrests, raids and latest updates on Wednesday's deadly assault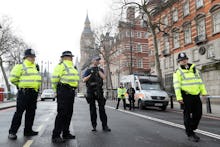 An investigation is ongoing in the wake of Wednesday's deadly attack near London's houses of Parliament that left five people dead, including the attacker, and around 40 people injured. The attacker was identified Thursday as 52-year-old Khalid Masood. 
Here are the latest updates on Wednesday's violence, the related series of arrests made in the U.K. and the attacker's potential connection to extremist terrorism.
What happened in London?
On Wednesday afternoon local time, Masood drove a vehicle through a crowd of people on Westminster Bridge, then crashed the vehicle into the perimeter surrounding Parliament. He left the vehicle and fatally stabbed a London police officer before being shot and killed by police, according to the New York Times.
In the aftermath of the attack, British lawmakers were told to remain in place in the House of Commons and British Prime Minister Theresa May was quickly evacuated to her office.
Victims of the London attack
The officer who was killed was identified as Keith Palmer, a 15-year-veteran of the Metropolitan Police. One of the victims who was killed in the attack has also been identified as Aysha Frade, 43, a teacher who was originally from Spain and but lived in London, CNN reported.
One of the other victims killed in Wednesday's attack was American tourist Kurt Cochran, a Utah resident who had been visiting the U.K. with his wife Melissa on a trip to celebrate their 25th wedding anniversary. Melissa was seriously injured in the attack, NBC News reported. The two had been scheduled to return home on Thursday.
Among the 40 injured were five tourists from South Korea and three high school students visiting from France, according to CNN.
Who was Khalid Masood?
On Thursday, May told Parliament that the attacker was born in the U.K. and was "once linked to violent extremism," CNN reported. He had reportedly been the subject of investigations in the past, May said, but authorities didn't know of his plans to carry out a violent attack.
U.K. officials identified Masood as the attacker on Thursday, the Associated Press reported. Masood was born in southeastern England, according to the AP. He had a criminal record, including an arrest for assault and "possession of offensive weapons." He had most recently been arrested in 2003, for possession of a knife.
Police also said that he had multiple aliases and was living in central England. He was not under any current investigation at the time of Wednesday's attack.
ISIS claims responsibility
ISIS claimed responsibility for Wednesday's attack, according to CNN, although it provided no evidence, and one CNN terrorism expert cautioned that ISIS, which reportedly claimed Wednesday's attacker as one of it's "soldiers," might not be directly responsible.
U.K. counter-terrorism official Mark Rowley told press that police had worked quickly Wednesday night into Thursday, conducting searches and making arrests in London and in the city of Birmingham, U.K.
One official told CNN that they believed that the attack was ISIS "inspired or copycat."