'RuPaul's Drag Race' Season 9: 6 queens who could be the surprise 14th contestant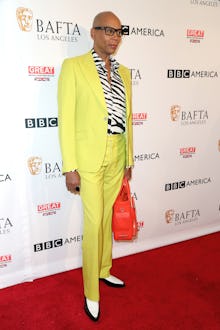 RuPaul's Drag Race's ninth season kicks off on Friday, March 24 at 8:00 p.m. Eastern on VH1, so it's time to start guessing what this season's twist will be. 
Rumors are circulating that there is possibly a big twist this year, and that it is a returning queen from a previous season. Well, we already know that Lady Gaga pretends to be the 14th contestant when the new crop of girls are introduced at the beginning of the season premiere. So, we can count Mother Monster out. 
While we're living for her guest judge appearance in the season opener, let's break down who the 14th contestant could possibly be. 
1. Shangela
This list would not be complete if we didn't guess Shangela first. We're guessing Shangela because we've learned to never count her out. 
This wouldn't be the first time the queen has been thrown into the mix. The season two contestant, who was the first to be eliminated, returned for season three as that season's surprise twist. We doubt it happens again, but this would be a fun twist. Halle-loo!
2. Cynthia Lee Fontaine
Who didn't love the hilarious and fabulous Cynthia Lee Fontaine? 
Reddit users think the 14th contestant for season nine may be the season eight queen. Some are guessing that her voice is heard in the background during a RuPaul interview with NPR that took place on the set of season nine. Nothing has been confirmed, so she could just be making a guest appearance in a challenge or upcoming episode. 
3. Acid Betty
While we're stuck on queens from season eight, Mama Ru could bring back the dramatic but loveable Acid Betty. 
If there was anyone from the most recent season that would make for an entertaining addition, it would be this queen. As the fifth contestant voted out, she left early enough in the season that a second chance is more than warranted. 
4. Trixie Mattel 
While it's the least likely of possibilities, we can only hope it happens. 
Trixie has gone on to become a star in her own right since appearing on the fifth season of the reality-competition show. Her YouTube series with Katya, UNHhhh, has become a smash hit. 
While it's doubtful she took time off last year during the filming of that and touring, we've learned to expect the unexpected. Trixie missed out on RuPaul's Drag Race All Stars 2 and would make a great surprise addition. 
5. Laganja Estranja
What was missing from All Stars 2 was a lack of queens from the sixth season. Outside of Adore Delano, there weren't any other queens competing from that season and it's time to bring more back. 
Laganja Estranja has gone on to be one of the most divisive queens since competing during her season of the show. Her addition would not only make for an entertaining choice but a reflective one. She's grown so much as a queen since her time on the series and it's time for her to compete once again. 
6. April Carrion
Alright, one more from season six: April Carrion. This queen left early in her season and is due for another opportunity. 
Her aesthetic fits perfectly with the current queens competing for the crown this season. She wasn't given a chance to show off her full potential as she was the fourth queen to leave the competition. 
We'll have to wait and see who it could possibly be. 
Mic has ongoing RuPaul's Drag Race coverage. Please follow our main Drag Race hub here.