Newt Gingrich: America can't "be multicultural and still be a single country"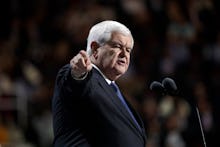 Newt Gingrich went on Hannity Wednesday night to discuss the stabbing attack that left four people dead, including the suspected attacker, in London earlier in the day .
The discussion veered into America's so-called "issues with refugees and migrants," as host Sean Hannity described them, and whether the United States would "follow the same path" as the European Union: let refugees enter their borders, only to face "consequences" like rising crime and terrorism.
Gingrich replied that Americans needed to get over the "mythology" that people from different cultures can coexist peacefully in the same country:
"[Part] of it is when people come here, we need to go back to teaching people how to be American — to assimilating them into an American civilization," the former Georgia congressman said. "We absorb lots of people from lots of places. We can do it again, but part of that requires that we defeat this left-wing mythology that you can be multicultural and still be a single country."
Full episode below:
It's worth noting, first and foremost, that the U.S. hasn't had any real "issues" with refugees and migrants — aside from President Donald Trump's dogged commitment to making life harder for them. Not a single fatal terror attack on U.S. soil has been committed by a refugee or migrant from a country implicated in Trump's travel ban, despite the White House's insistence that they threaten Americans' safety.
But even more telling is Gingrich's characterization of multiculturalism. He assumes that there is one monolithic "American" culture — implying one centered on white Americans — that all others must conform to in order for the U.S to function properly. He frames the idea of different cultures living in harmony as a "myth" compounded by immigrants unwillingness to assimilate.
Yet it seems not to have occurred to Gingrich that maybe he is the problem, not immigrants. The U.S. has certainly had trouble getting people from different races to coexist peacefully. But most of that can be attributed to our centuries-long history of white supremacy. 
From colonialism and the various wars on Native Americans, to slavery and Jim Crow, to the modern-day criminal justice system, the greatest barrier to racial coexistence in the U.S. has been white hostility. Traditionally, white Americans have simply not wanted to live side-by-side with non-whites in the spirit of goodwill and equality. It's why white resistance to racial equity continues to define American life, whether in the form of Blue Lives Matter protests and laws, or Trump's nativist "law and order"-focused agenda.
The real mythology here, it seems, is unfolding in Newt Gingrich's head.