When does 'Pretty Little Liars' come back on in 2017?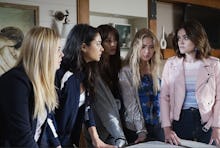 Pretty Little Liars, the most stylish murder mystery on television, will return April 18 for its final 10 episodes.
The guilty pleasure teen-drama favorite, based on Sara Shepard's young adult book series, concluded the first half of its seventh and final season in August. The summer finale was eventful, to say the least, including a shocking death, a pregnancy reveal and the reunion of a massively shipped couple. And that was just a few minutes of the episode. 
After years of being stalked and harassed by various villains (who, somehow, all wear the same black hoodie), the girls, and their fans, are entitled to some answers. Approximately a few thousand. 
The final 10 episodes will be eventful, given that the show still has a lot of questions to answer and stories to tie up in just 10 episodes. Cast members from previous seasons are returning, including Wren, the British doctor who was just too cute to be true. 
Who knows how the final 10 episodes will wrap up? But one thing's for sure: Aria, Emily, Hanna and Spencer are friends 'til the end. 
Mic has ongoing Pretty Little Liars coverage. Please follow our main Pretty Little Liars hub.