Um, was that Transportation Secretary Elaine Chao tweeting at Maxine Waters to sue Trump?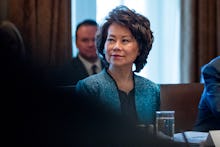 The call is coming from inside the White House: Sue the president.
The Hill reported Wednesday that President Donald Trump's transportation secretary, Elaine Chao, seemed to have sent and deleted an incriminating tweet from her verified Twitter account. Hill staff writer Melanie Zanona clocked the comment before Chao could remove it and shared a screenshot. 
"SUE HIS VERY SOUL," Chao's account tweeted, in response to a tweet from Maxine Waters — arguably the internet's favorite senator — that read: "Get ready for impeachment."
According to the Hill, the Department of Transportation is blaming the incident on "an employee with access to the account." 
"The employee took action outside of his scope of work and duties and without any approvals," a department spokesperson said, according to the Hill. "We regret that this transpired and have taken steps to prevent any future occurrence."
And, hey, Waters didn't really need anyone telling her to take action against Trump. We all know what she's about.