What to know ahead of Thursday's vote on the American Health Care Act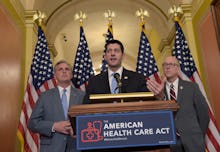 Today's the day. The GOP's bid to fix Obamacare, the American Health Care Act, will be voted on sometime Thursday evening — we think. So much is still up in the air. The latest counts show Republicans do not have enough votes to pass the Affordable Care Act replacement, leading to an all-day blitz by President Donald Trump and House Speaker Paul Ryan to convince "no" votes to support the legislation.
Here's what we know: 
•  The House GOP was planning to meet Thursday morning to discuss the AHCA before its final vote later in the day. The meeting was canceled. 
•  Republican leaders are scrambling to please 25 members of the House Freedom Caucus, the most conservative Republicans in the House. Trump and Ryan are reportedly weighing removing a requirement insurance companies provide "essential health benefits" — coverage of maternity care, addiction services, pediatric care, prescription drugs and more — to win conservative votes. 
•  That bid to win over conservatives may have spooked more moderates. Pennsylvania Rep. Charlie Dent, leader of a moderate GOP House group, remained a "no" vote on the AHCA after an hours-long meeting with Ryan. Dent said he worried about the impact of losing Medicaid coverage and not understanding the bill's full impact.
•  Either way, this bill is unlikely to pass the Senate. Even if the most conservative revisions are not made to the AHCA, the existing bill will not pass the Senate without substantial revision.
•  Here's a running list of Republicans planning to oppose the bill.
What we don't know: 
•  What's in the AHCA bill! The late night and early morning negotiations between Trump and House conservatives are going to yield a bill that the wider world will only have a few hours to look at before the vote. Back in 2010, when the Affordable Care Act was passed, the GOP attacked Democrats and the Obama administration for — you guessed it — last-minute deals and a vote on a bill that Americans had no chance to evaluate.
Trump warned House Republicans earlier this week they could lose their seats if they don't support the AHCA. But a host of health care and conservative groups outside Congress are opposed to the bill. One example of the support the GOP could draw from outside the Capitol: the Koch brothers, ultra-conservative mega-donors, announced on Wednesday that they will support conservatives who vote against the AHCA with a seven-figure fund. 
This is Mic's daily read on Donald Trump's America. Welcome to the political newsletter that Paul Ryan did not ask for a vote count. 
This is it:
•  Today: The vote on the American Health Care Act is here. And it's going to come down to last-minute negotiations.
•  More: The breakdown of the House Intelligence Committee spells trouble for investigations into Trump and Russia.
•  Even more: Democrats tried to trip up Gorsuch. They never really managed to pull it off.
•  Trump's agenda today: Meeting with the House Freedom Caucus. Meeting with secretary of the treasury. Meeting with truckers. Holding a listening session on health care.
The Russia investigation is officially partisan
When Rep. Devin Nunes (R-Calif.) stood before cameras Wednesday, he killed the last bastion of hope his committee could effectively investigate President Donald Trump. The chairman of the House Intelligence Committee told reporters that the president's communications at Trump Tower may have been swept up in "incidental" and "legal" surveillance activities — and that may have still been "inappropriate." Mic broke down Nunes' confusing choice of words.
What's more, he made the statement without consulting with members of his committee. After condemning leaks of classified information, Nunes seemed to reveal the occurrence of classified surveillance activities. He also briefed Trump personally about what he found, raising questions about Nunes' ability to independently investigate the president and his team.
The news was a boon for a White House eager for any shred of evidence to support Trump's claim he was wiretapped last year. Trump said he was "somewhat vindicated" by the remarks. Press secretary Sean Spicer used Nunes' statement to suggest the president's wiretapping tweet was not false. It should be noted there is still no evidence President Barack Obama was involved in any surveillance connected to Trump.
Rep. Adam Schiff (D-Calif.), the top Democrat on the House Intelligence Committee, blasted Nunes' move on Wednesday. "A credible investigation cannot be conducted this way," Schiff said. Nunes is "a surrogate for the administration." That preceded the congressman's statement that "there is evidence that is not circumstantial" that Trump campaign associates colluded with Russia, facts "very much worth of investigation." 
Sen. John McCain (R-Ariz.) again called for a special inquiry into Trump and Russia — what was happening in the House committee was "bizarre," he said: "No longer does the Congress have credibility to handle this alone." Here's an overview of the four investigations into Trump and Russia.
Here's a Wednesday night siren from CNN: "US officials: Info suggests Trump associates may have coordinated with Russians." 
News and insight you cannot miss:
•  Speaking of Russia, what role did Paul Manafort play in Trump's campaign? The White House says not much. I took a look at what he actually did.
•  Time interviewed Trump about truth and falsehoods. It's a must-read Q&A. (Time)
•  Democrats and Republicans alike loathe FBI Director James Comey. (The Hill)
•  The Secret Service requested an additional $60 million to protect Trump and his family. Half that amount would have gone to security in Trump Tower. The request was denied. (Washington Post)
•  Why is Rex Tillerson skipping the NATO meeting? (Mic)
•  In wishing Iranians a happy new year, Trump used a fake quote from an ancient Middle Eastern ruler. (Mic)
The Supreme Court weighs in on Neil Gorsuch
Judge Neil Gorsuch had his toughest moment during his Supreme Court hearings on Wednesday following a surprise decision from his potential future colleagues. The Supreme Court issued a unanimous decision Wednesday that school districts must give children with special needs the chance to make "appropriately ambitious" progress. The decision arose out of a case in which parents wanted the public school to pay for their son's tuition at a private school, where he was developing more meaningfully.
In similar cases in the past, Gorsuch's opinions "all tended toward limiting the responsibilities of school districts." Democrats pounced its relevance to the Supreme Court nominee they have had difficult tripping up. Sen. Dick Durbin (D-Ill.) questioned whether Gorsuch uses his heart when he makes judicial decisions.
But the Supreme Court nominee still appears headed toward confirmation. Democrats could filibuster the nominee next month, but that unprecedented move is not expected — at least right now. None of the 52 Republican senators have indicated they would not support Gorsuch, and some moderate Democrats may vote for the judge.