'Pokémon Go' Shiny Magikarp and Gyarados: Players find red and gold shiny Pokémon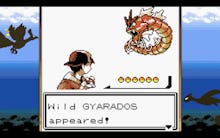 Pokémon Go's Water Festival is now officially underway, and players are already reporting that they're finding shiny Pokémon: shiny gold Magikarp and shiny red Gyarados to be exact. Although the inclusion of shiny Pokémon has been hinted at in previous leaks, this is the first we've actually seen the ultra-rare Pokémon in-game.
Read on for the first shiny Magikarp and shiny Gyarados sightingts in Pokémon Go.
Pokémon Go shiny Magikarp and Gyarados spotted during Water Festival
On March 22, Pokémon Go subreddit the Silph Road was inundated with information regarding the inclusion of shiny Magikarp in the game. One of the moderators for the Silph Road, dronpes, verified the claim as real, and several players posted pictures of shiny Magikarp they'd caught as well.
Although shiny Pokémon are now in the game, users reported that they only appear that way on the encounter screen.
"Nope, until the encounter triggered it looked like a regular Magikarp," user foca05 replied when another user asked them whether or not they could tell if the Magikarp was shiny from the world map.
Other reports of shiny Magikarps followed, including a video posted to the Silph Road several hours later showing someone evolving their shiny Magikarp into a red Gyarados, making it pretty clear that shinies have now officially been introduced. 
Pokémon Go shiny Gyarados: A reference to the Gen 2 games
In their official tweet announcing that a shiny Pokémon was now appearing in-game, the Silph Road Twitter made reference to the fact that gold Magikarp and red Gyarados being the first shiny Pokémon to appear was probably an homage to the red Gyarados in the Lake of Rage from Pokémon Gold and Silver, which was likely the first shiny Pokémon most players had found themselves.
At this point, it's unlikely that there are other shinies in the game aside from Magikarp and Gyrados. However, it's probably only a matter of time before Niantic introduces more into the mix. Until then, you'll just have to click on all the Magikarp you find to see if any of them turn out to be shiny!
More Pokémon Go guides, tips, tricks and updates
Check out Mic's Pokémon Go tips and tricks. Here are guides on how to get stardust, how to determine how long it will take you to reach level 40, the kind of Pokemon you get from 10-kilometer eggs, how to create new PokéStops, how to maximize your chances of catching Pokémon and how PokéStops distribute Pokémon eggs. Also check out how to catch Gen 2 baby Pokémon, our analysis of post-balance update Chansey and Rhydon and everything you need to know about finding the long-awaited Pokémon Ditto.