Jewish Center Bomb Threats Update: Israeli-American teen believed to be behind threats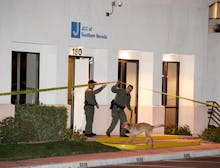 A 19-year-old Jewish teenager was arrested in Israel on Thursday in connection with bomb threats made to Jewish community centers and synagogues in the United States, CNN reported on Thursday.
Israeli police spokesman Micky Rosenfeld said that Israeli police worked with the FBI for months before making the arrest, CNN reported. The teen, who reportedly holds dual Israeli and U.S. citizenship, is believed to have used "advanced camouflage technologies" while calling in threats to community centers, synagogues and in the U.S., Australia, and New Zealand, according to Rosenfeld. One threat was called into Delta Airlines in 2015, and allegedly led to a plane making an emergency landing, the Associated Press reported.
The AP reported that the suspect, from the south of Israel, was reportedly behind "dozens" of threats made to Jewish institutions since January.
Rosenfeld told journalists that Israeli police searched the suspect's home and found equipment including antennas and satellite technology, according to the AP. Rosenfeld also reportedly identified the suspect as a hacker and called him "the guy who was behind the JCC threats." Rosenfeld also said that, so far, the suspect's motive's remain unclear.
This latest arrest is another twist to the ongoing saga of threats made against Jewish institutions in the U.S. In early March, U.S. authorities arrested former journalist Juan Thompson in connection with at least some of the threats made to JCCs. 
Thompson, who had condemned anti-Semitism on his own social media pages, was also alleged to have been stalking a woman with whom he had been romantically involved, and had allegedly attempted to frame her for the bomb threats.