Obama offers timely shade for the GOP on the 7th anniversary of the Affordable Care Act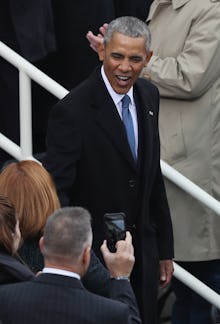 Former President Barack Obama took time out of his post-presidential vacation to celebrate the passage of the Affordable Care Act on his signature health care law's seventh anniversary — and in the process threw shade at Republicans who are struggling mightily to try and repeal it.
In a lengthy statement, Obama touted the millions of people who received coverage thanks to Obamacare, and sought to debunk Republican talking points about the law being a "job killer," saying, "America's businesses went on a record-breaking streak of job growth in the seven years since I signed it." 
"The reality is clear: America is stronger because of the Affordable Care Act," Obama said.
He also had some words for Republicans, who are debating whether to remove some of the ACA's biggest protections for Americans, including mandating that insurers cover basic health care costs such as hospitalization and prescription drug coverage, among other things.
"If Republicans are serious about lowering costs while expanding coverage to those who need it, and if they're prepared to work with Democrats and objective evaluators in finding solutions," Obama said, "that's something we should all welcome."
"But we should start from the baseline that any changes will make our health care system better, not worse for hardworking Americans," Obama added, likely a nod to the Congressional Budget Office analysis that said 24 million Americans could lose coverage thanks to the GOP plan, not to mention impose skyrocketing costs for seniors and others.
Republicans have scheduled their ACA replacement vote for Thursday night. It's unclear whether their health care plan can pass.