Sephora is introducing a makeup class for people with or recovering from cancer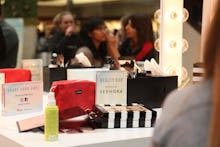 Makeup classes at Sephora stores nationwide are usually created to teach people things like how to do an "essential smokey eye" or "winged eyeliner" or a "contour and highlight." But with its most recent offering, Sephora has gone from teaching people what they want to know about makeup to, perhaps, what they need to know. 
Its latest class, called Brave Beauty in the Face of Cancer, is all about helping the people whose skin and hair may have been affected by their cancer diagnosis. 
During the free 90-minute classes, participants — regardless of gender — will be given a foundation that matches their skin exactly, be taught how to get a more radiant complexion and how to define their eyebrows and eyes, given that their eyebrow hair and eyelashes may have fallen out. 
The class is part of Sephora's Classes for Confidence program, which focuses on improving the lives of people who are going through intense transitional periods in their lives, from finding a new job to yes, battling cancer. 
"In January 2015, we asked ourselves, 'Where can our strengths make a difference in our communities? What are we uniquely positioned to do?'" Corrie Conrad, Sephora's head of social impact, told People. "We had this amazing infrastructure that doesn't just offer makeovers, but empowers our clients — and when we realized that for our colleagues in-store, it was all about making a connection, I thought, 'How can we use our classes to intentionally create one of those moments that are meaningful to our employees?'" 
Each of the classes, which are offered in cities in more than 40 states across America — including New York, Florida, Maryland, Texas and Virginia — are kept small, just 12 people in each with a teacher helping three or four people at a time, in order to offer the most intimate and informative class to everyone. 
The instructors are also reportedly trained rigorously on all the things each participant may experience with their skin and hair and complexion after cancer treatment. The chemicals in the products used during the tutorials are also monitored, with instructors using fewer products with so-called "chemicals of concern" for people with cancer. 
The fashion and beauty industry's realization that they could do a whole lot of good for people with cancer has bubbled up just recently. In August, the U.K.-based hair company Good Hair Day launched a campaign, called You Are Not Defined By Your Hair, which showed women who have or have had cancer giving tutorials on how they dealt with hair loss and different kinds of hair styling and makeup tips and tricks, from headscarves to wigs. 
"Having worked in the breast cancer field for over 15 years I have witnessed the difficulties patients face," said Denise Flett, a specialist who worked on the campaign, Mic previously reported. "Often the most significant anxiety regarding treatment is loss of hair. A resource that can offer practical and expert tips in an empowering way is something [I] would direct patients and colleagues to."
For Sephora, it's important to make sure that even people who can't make it to a class feel supported in their stores too. So, the retail chain is encouraging employees who have had cancer or are currently going through treatment to wear a heart-shaped lavender pin (seen in this article) to identify themselves in the store. 
Just like that, the beauty industry turns into a much more inclusive and understanding place. 
March 24, 2017, 1:17 p.m.: This post has been updated.