Dunkin' Donuts is killing the Coffee Coolatta — and Twitter is grieving hard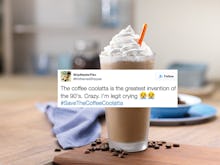 RIP Dunkin' Donuts Coffee Coolattas; you've been a sweet, sweet friend. 
In a move that has Americans across the nation devastated, Dunkin' Donuts announced the coffee chain plans to do some spring cleaning with its menu and will bid farewell to Coffee Coolattas this summer. Customers will be able to order new coffee-based blended drinks, as well as new flavors for fruity Coolattas, Business Insider reported. 
"Our Coffee Coolatta isn't good enough," Chris Fuqua, Dunkin's senior vice president of brand marketing, said, according to Business Insider. Instead of offering the beloved coffee drink-slash-milkshake, Dunkin' plans to roll out "Frozen Dunkin' Coffee," which is a "blended beverage" that sounds like a slightly revamped Coolatta.
"Frozen Dunkin' Coffee will offer our guests a more authentic, energizing coffee-drinking experience compared to the Coffee Coolatta," Fuqua said in an email to Mic. The new drink is made from a "special [coffee] extract" that will be blended with ice and dairy, he noted. 
What's not good enough about the Coolatta? 
The Coolatta debuted in the mid-'90s and soon became a beloved fixture on the Dunkin' menu, the Boston Globe reported. When Baskin-Robbins became Dunkin's sister brand, Dunkin' borrowed the recipe for the ice cream chain's "Cappuccino Blast," a mix of cappuccino flavoring and ice cream. (This was a few years before Starbucks rolled out "Frappuccinos," as the Globe noted.) 
"The Cappuccino Blast at Baskin became the Coolatta at Dunkin',"  Bob Rosenberg, Dunkin' Donuts' former CEO, told the Boston Globe. "Almost overnight, that became nearly a $300-million piece of business."
The Coffee Coolatta is a surefire way to get a rush of caffeine and sugar in one scrumptious beverage. Let us never forget that a large-size (32-oz) Frozen Caramel Swirl Coffee Coolatta boasts an impressive 990 calories, 47 grams of fat and 138 grams of sugar. 
Rest assured, the new drinks will still pack a sugary punch. A large Dunkin' Frozen Coffee will contain 840 calories and 123 grams of sugar, Business Insider reported. 
Here's a photo of the new Frozen Dunkin' Coffee, aka Coolatta replacement. 
People on Twitter didn't take kindly to the news that the Coolatta is getting axed.  
Tearing up at the thought of life without Coffee Coolattas? They're still on menus until they get outed by the new Frozen Coffee — so now's the time to treat yourself before the drink is gone forever.