How much is the iPhone 8 going to cost? All the rumors and leaks before iPhone 8 release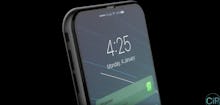 It's the 10th anniversary of Apple's iPhone, and the company is rumored to be releasing a special device to commemorate the occasion. Before the Jan. 9 anniversary of the device earlier this year, CEO Tim Cook teased that "the best is yet to come" for the smartphone.
"iPhone is an essential part of our customers' lives, and today more than ever it is redefining the way we communicate, entertain, work and live," Cook said in a statement. "iPhone set the standard for mobile computing in its first decade, and we are just getting started. The best is yet to come."
iPhone 8 release rumors: What will it be called?
Dubbed iPhone 8 — though other rumors suggest it could be called iPhone X or iPhone Edition — the device will be a third handset releasing outside of the usual two next-gen handsets. According to the most recent speculation, Apple will proceed with an iPhone 7s and iPhone 7s Plus. The third device is said to be the standalone anniversary device that will release after the iPhone 7s models.
iPhone 8 release rumors: How much will it cost?
iPhone 8's most notable quality is its price. The device is rumored to start at $1,000 but could also be higher. While that price point sounds alarming, the 256GB version of the iPhone 7 Plus retails for $969. With more features and better-quality materials, a $1,000 base point for the anniversary phone is plausible.
iPhone 8 release rumors: Will these features make it worth the price tag?
The iPhone 8 is rumored to have a glass and stainless steel body with an edgeless OLED 5.8-inch display that will be "bezel-less," according to Barclays supply chain analysts. Other rumors surrounding the device suggest the handset will feature improved battery life, the home button and fingerprint sensor may be built into the screen, there could be wireless charging and the device could come with a new 3-D sensing technology that allows for "some form of facial/gesture recognition." It also may support the Apple Pencil.